Spellman High Voltage Electronics UK Facility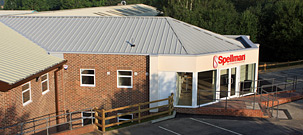 Spellman High Voltage Electronics Ltd, UK
West Sussex, United Kingdom
Design Manufacturing and European Sales and Service Headquarters.
Broomers Hill Lane Pulborough West Sussex,
United Kingdom RH20 2RY
Phone: +44 (0) 1798 877000
Fax: +44 (0) 1798 872479
Spellman's European headquarters is located in a 2,555 m
2
(27,500 ft
2
) facility in Pulborough, West Sussex. Specializing in the design, manufacture and after sales support of precision high voltage power supplies and PFE systems to customers in the U.K. and the European continent.
Some important facility features are:
ISO 14001-2004 Certification
ISO 9001:2008 Certification
UL Safety Agency Approved Products
Lean manufacturing techniques to satisfy volume and a variety of product demands
EMC Test & CE Self Certification Capabilities
Automatic Test Systems to ensure product compliance
Multilingual communicating ability