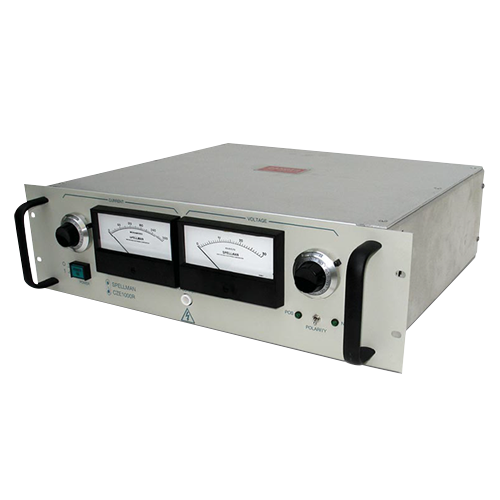 SERIE CZE1000R
Ideal para el electrohilado y uso en laboratorio
Programación local o remota de 0 kV-30 kV y 0µA-300 µA.
Inversión de polaridad a solicitud en <1 segundo sin carga
Bajo almacenamiento de energía, salida limitada de corriente

FUENTE DE ALIMENTACIÓN DE ALTO VOLTAJE DE INVERSIÓN AUTOMÁTICA
La CZE1000R de Spellman es una fuente de alimentación de alto voltaje de características completas para montaje en bastidor ideal para uso en laboratorio. Está diseñada para cumplir las necesidades de las aplicaciones que requieren voltaje de salida con inversión sin desconexión. La polaridad de salida puede invertirse de forma rápida y segura mediante un interruptor en el panel frontal.
Tanto el voltaje de salida como la corriente son completamente ajustables de 0 kV a 30 kV y de 0 μA a 300 μA mediante perillas indicadoras de conteo de diez vueltas con bloqueo. La operación a control remoto se realiza con señales de programación de 0 VCD a +10 VCD, ya sea generadas por el usuario o utilizando la referencia de +10 VCD proporcionada y los potenciómetros externos.
Los medidores de corriente y voltaje del panel frontal proporcionan el monitoreo local. Se suministran puntos de prueba de corriente y voltaje en los que el rango de 0 VCD a 10 VCD corresponde al rango de 0 a 100% de la salida nominal. Un interbloqueo externo de dos posiciones normalmente cerrado se proporciona para la protección de las áreas de alto voltaje con acceso externo. Si el interbloqueo se abre se cortará el alto voltaje y caerá a cero en menos de un segundo y no podrá volverse a energizar hasta que se encuentre cerrado el interbloqueo.
Las excelentes especificaciones de regulación de línea y carga, además de la sorprendente estabilidad y bajo rizo de la CZE1000R aseguran una salida de alto voltaje estable para resultados consistentes de los procesos.
Aplicaciones típicas:
Electrohilado
Espectrometría de masas
Electroforesis capilar
Investigación electrostática

(Ref. 128075-001 REV. G)
Input Voltage:
115Vac, ±10%, 50/60Hz
Input Current:
Less than 1 amp
Efficiency:
75% typical
Output Voltage:
0 to 30kV
Polarity:
Auto reversible via front panel switch
Output Current:
0 to 300µA
Power:
9 watts, maximum
Line Regulation:
0.01% for a 10% input voltage change
Load Regulation:
0.01% for a full load change
Ripple:
0.1% Vp-p
Stability:
0.02% per 8 hours (after 1/2 hr warmup)
NL Time Constant:
100ms
Stored Energy:
0.2 Joules at 30kV
Temperature Coefficient:
100ppm/°C
Operating Temperature:
0°C to 40°C
Storage Temperature:
-40°C to 85°C
Humidity:
10% to 85% RH, non condensing
Cooling:
Convection cooled
Dimensions:
5.25"H x 19"W x 17"D (13.3cm x 48.3cm x 43.2cm).
Weight:
22lbs. (10kg)
Interface Connector:
14 pin terminal block
AC Input Connector:
IEC320 connector with 6' (1.83m) cord
HV Output Connector:
Detachable 36. (0.91m) cable provided
Regulatory Approvals:
Designed to meet EEC EMC Directive. Designed to meet EEC Low Voltage Directive.
OPTIONS
220 220Vac Input VoltageRPO Rear Panel HV Output
CZE100R TERMINAL BLOCK 14 PIN
Pin
Signal
Parameters
1
+10Vdc Reference Output
+10Vdc, 4mA maximum
2
Internal Voltage Control
Front Panel Program Voltage (programming potentiometer)
3
Voltage Program Input
0 to 10Vdc = 0 to 100% rated output, Zin =10MΩ
4
Internal Current Control
Front Panel Current Control
(programming potentiometer)
5
Current Program Input
0 to 10Vdc = 0 to 100% rated output,
Zin =10MΩ
6
Signal Common
Ground
7
Voltage Test Point
0 to 10Vdc = 0 to 100% rated output, Zout =10kΩ, 1%
8
Current Test Point
0 to 10Vdc = 0 to 100% rated output, Zout =10kΩ, 1%
9
External Interlock Out
32Vdc @ 2 amps, max, (connect to pin 10 through safety switch)
10
External Interlock In
Return for interlock (connect to pin 9 through safety switch)
11
+10Vdc Reference Output
+10Vdc, 4mA maximum
12
Enable
Open or ground = HV OFF, >3.4Vdc (up to 15Vdc) = HV ON
13
Spare
No Connection
14
Spare
No Connection
Note:
The unit is shipped with the following pins jumpered for front panel
operation: 2-3, 4-5, 9-10, 11-12 It is strongly recommended to
remove the 9-10 jumper and use a high voltage safety interlock
switch.
High Voltage Cable:
A mating high voltage connecter is provide with the unit. Have a
spare on hand or replace broken/lost mating high voltage cables
by ordering Spellman part number 105719-034
DIMENSIONS: in.[mm]
FRONT VIEW

TOP VIEW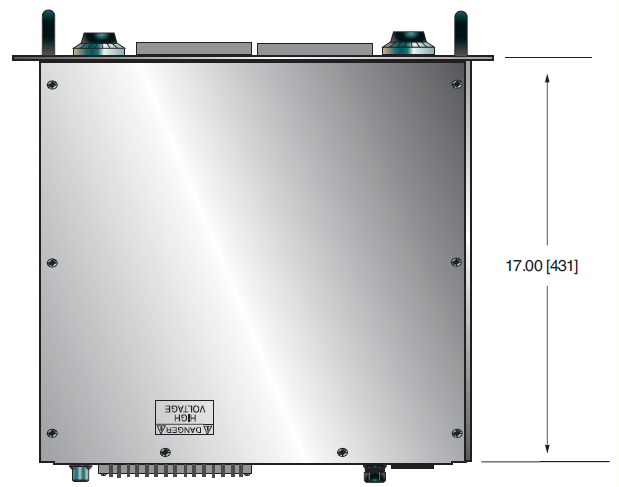 BACK VIEW