Spellman de Mexico Wins 3rd Place in CFE's (Mexican Federal Electric Power Commission) National Energy Projects
ноября 15, 2012
November 15, 2012 – Matamoros, Tamaulipas Mexico – Spellman High Voltage Electronics Corporation, the world's leading manufacturer of custom high voltage power conversion products, announces that its plant in Matamoros, Mexico has won 3rd place in the National Electrical Energy Saving Award (or PNAEE), organized by the CFE (Mexican Federal Electric Power Commission).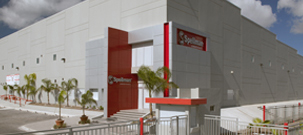 Among 100 Multi-National Companies, Spellman de Mexico participated in the B category, for mid-size firms. Spellman de Mexico's green project was based on its existing energy saving environmental system, and in the general criteria and guidelines taken to acquire LEED Certification in Spellman's Matamoros Plant 3 in 2011.
A significant contributor to the award was the incorporation of a Natural Gas Cooling System for HVAC, and SMART-Building High Efficiency Electrical System implementation.
The current President of Mexico, Felipe Calderon, will deliver the award at a ceremony in Mexico City on Nov. 21, 2012.
Information on Spellman and their wide range of high voltage products is available by calling +1-631-630-3000, or by visiting their website: www.spellmanhv.com
Spellman High Voltage Electronics is the world's leading provider of custom designed and standard AC-DC and DC-DC high voltage power converters and Monoblock® X-Ray sources for medical, industrial, semiconductor, security, analytical, laboratory, and under-sea cable power-feed applications. With design, manufacturing and service facilities in the US, UK, Mexico, China and Japan, and direct sales offices throughout Europe, Asia and North America, Spellman is committed to supporting advanced system providers and their customers throughout the world.