Hot Switchable, Polarity Reversible DC-DC Converter via Logic Signal
декабря 20, 2006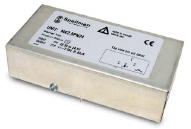 HAUPPAUGE, New York- December 20, 2006 -- Spellman High Voltage Electronics Corporation continues to set the standard for high voltage power conversion technology with the release of the MX2.5, uniquely created for applications requiring a hot switchable output polarity reversing capability. Polarity reversing, when initiated via a logic level signal, will settle to ±1% in 300ms at a 1 Hz maximum repetition rate. This makes the MX2.5 ideal for use in security detection systems, Dynodes, sample ionization, capillary electrophoresis, and electrostatic printing applications.
The MX2.5 provides 2.5kV @ 60uA in a compact 1.18" H X 2.36" W X 4.72"D (30mm X 60mm X 120mm) printed circuit board mountable, modular package. The grounded metal enclosure shields both the power supply and adjacent circuitry, minimizing radiated emission concerns.
A customer-provided 0-10Vdc signal controls the module's output. Voltage and current test points allow easy power supply monitoring in addition to a Shutdown feature that will disable and discharge the high voltage output to less than 60Vdc within 300mS. Excellent ripple, regulation, stability and accuracy specifications make the MX2.5 well suited for demanding precession requirements. OEM customization is possible providing higher voltage and current ratings and enhanced performance specifications.
Technical literature and additional information on the MX2.5 high performance DC-DC converter, as well as all other Spellman products, is available by contacting Spellman High Voltage at (631) 630-3000, or by visiting the product's technical specifications.
Spellman High Voltage Electronics is the world's leading independent manufacturer of high voltage DC power supplies, Monoblock® X-ray generators and power systems for medical and industrial applications, semiconductor manufacturing, scientific instrumentation, telecommunications, X-ray and automatic test equipment. We specialize in providing custom designs to suit unique requirements. Spellman is headquartered in the U.S. and has facilities in the U.K., Japan, China, and Mexico that provide design, manufacturing, and service to our customers throughout the world.