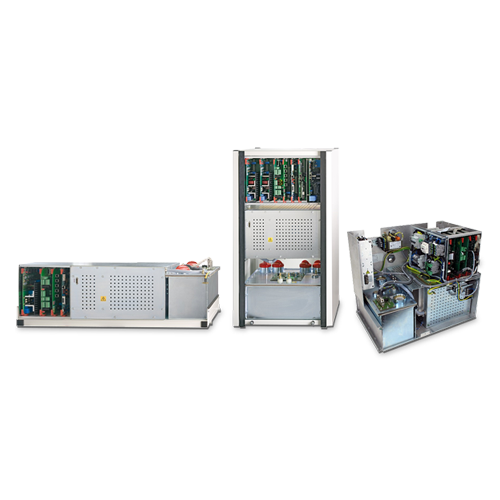 HFe X-Ray Generators
40 – 80 kW Radiographic and Fluoroscopic modes of operation
Integrated to the most sophisticated X-Ray tubes and digital workstations
Ethernet connections provide HFe the fastest and most stable X-Ray generator communication in the market
The easiest X-Ray generator in the market to calibrate, service and upgrade
*Note: All specifications are subject to change without notice.
Please consult the English PDF version of the Hfe Radiography Data Sheet for the most up-to-date revision.
High frequency X-Ray generators for radiography and fluoroscopy
Quality & Reliability: With a growing, global install base of thousands per year, The HFe generator boasts a feature rich, modular design for simplified serviceability and support

Serviceability: Designed for ease of serviceability and use, the HFe contains isolated circuit breakers, allowing service engineers to power down sections of the generator at a time, improving trouble shooting while ensuring safety
Subsystems Solutions: Our Powered by Spellman initiative allows customers to purchase additional x-ray components from today's leading OEM manufacturers through Spellman as a bundled solution, with the option of having the components pre-tested and pre-staged in our Medical ISO 60601 facility
Radiography
The HFe Radiographic Series x-ray generators combine market leading reliability and performance, backed by our international sales, support and parts depots.
Typical Applications:
General Radiography
Digital Radiography
Tomography
Image Guided Radiation Therapy
Radiographic Generator Options:
Consoles:
- Single console integration available with the today's most commonly used DR systems, Spellman provides a DR interface board, a mini console and hand switch
- Radiographic Membrane console available for analog, or non-integrated solutions
Interface for Automatic Exposure Control
Interface for dose measuring devices and workstations offering integrated readouts
Supporting all stator types
High Speed Starter
Flexible cabinet options to meet your space requirements
Input power options: 1 Φ and 3 Φ configurations available
Output power options: 40 kW, 50 kW, 65 kW, 80 kW
Fluoroscopic Mode
Used in today's most sophisticated applications, the HFe x-ray generator for Fluoroscopy offers customers a powerful engine for peak performance, driven by an intuitive service and calibration GUI to operate your remote or conventional R&F x-ray room
Typical Applications:
Remote R&F
Classical R&F
Urology
Vascular Imaging
Molecular Imaging
Image Guided Radiation Therapy
Fluoroscopic Generator Options:
Consoles:
- Supporting single console integration to today's market leading workstation providers
- Fluoroscopic membrane console available for non-integrated solutions
Continuous Fluoroscopy
Pulsed Fluoroscopy
High Level Fluoroscopy
Automatic Brightness Stabilization
Powering 1 tube and 2 tube configurations
Supporting all stator types
High Speed Starter
Input power options: Supporting 3 Φ configurations
Output power options: 40 kW, 50 kW, 65 kW, 80 kW