Winners Announced for 2022 International Clean Tech Competition
8月 25, 2022
Hauppauge, NY – On Friday, August 12th, the winners of the Spellman High Voltage Clean Tech Competition were selected from a group of 11 innovative high school student finalist teams from four states in America and seven nations. This unique competition, in its eleventh year, brings together students from around the world who are focused on making a difference in fighting global climate change and finding ways to develop and leverage clean energy.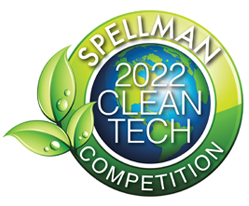 Teams presented their Clean Tech research and projects before a panel of judges live on Facebook on Thursday, August 11th. The awards ceremony was on Friday, August 12th.
Beating out over 426 students from 240 teams around the world, the First-place winner of $7,000 was Dye-ary from Taipei, Taiwan. Hsin-Jung and Yi-Chen researched and verified the ability of a fungus from southeast Asia in breaking apart chemical dye from textile wastewater. Natively existing in a region with a large concentration of textile factories, this natural process allows a safe option to combat this widespread form of pollution. The Team then designed both industrial and household filtering kits to utilize the fungus, increasing the ability of their research to create an impact.
The second-place winner of $5,000 was Save the Penguins, (Gwen Lianna Valimento) from Quezon City, Philippines. In her project, Ms Valimento used biomimicry to develop a Gentoo penguin flipper-inspired hydra Kaplan turbine blade that increases efficiency of hydroelectric power generators and collects energy at a higher rate than turbine blades commonly employed today.
The third-place winner of $3,500 was Pura-Aer (Jordan Prawira) from California, United States. Jordan's recycling project consisted of creating a low-cost, energy-efficient portable air purifier system using disposable face masks for emergency and daily uses.
The winners of fourth place through 11th place were awarded $1,000 each. A list of finalist projects can be seen here.
"Every participant in this competition has begun to contribute to one of the biggest, most complex, and most important global scientific endeavors ever undertaken. It is an endeavor to which we all must commit – for success depends not just on the science, but on our finding the political will to use what science makes possible", said Dr. Loren Skeist, Spellman HV President and CEO.
"Every year these students amaze and inspire us. These innovative young people are playing a critical role in developing solutions to some of the most critical challenges we face today. As I watched them present their projects, I was very proud that the Clean Tech Competition plays such an important role in spreading the message that STEM projects and studies can be fun, engaging and meaningful," said Dr. Ray Ann Havasy, Executive Director of CSTL.
This international competition is the only outcome-based STEM focused research and design challenge for pre-college youth and inspires them to pursue STEM studies and careers. The program is hosted by Rockville Centre, New York-based not-for-profit Center for Science, Teaching & Learning, led by STEM Crusader and Advocate Dr. Ray Ann Havasy, and sponsored by Hauppauge, Long Island-based Spellman High Voltage Electronics, a leader in high voltage technology in the medical, industrial and scientific fields.
Click here to see a video of the competition finals.
About Spellman High Voltage Electronics:
Headquartered in Hauppauge, NY, Spellman High Voltage Electronics, a family owned company established in 1947, is the preferred global supplier of precision DC high voltage power supplies and Monoblock® X-Ray sources for medical, industrial and scientific applications. It currently has over 2,000 employees in five design, six production and eight support centers in North America, Europe and Asia. Spellman partners with leading technology companies to advance medical care, industrial processes, quality control, scientific research, security and telecommunications by providing innovative high voltage power conversion solutions. For more information about Spellman High Voltage Electronics, visit www.spellmanhv.com.
About the Center for Science Teaching and Learning:
The Center for Science Teaching & Learning (CSTL) is a not-for-profit organization with a mission of encouraging science learning and literacy. CSTL develops programs for people of all ages and utilizes inquiry-based learning as its foundation for program development. This year marks the eleventh year for which CSTL is serving as the administrator of the Clean Tech Competition. For more information, visit www.cstl.org/cleantech. For more information about CSTL visit www.ctsl.org.