Spellman Expands Monoblock® Series For Security/Detection Applications
9月 29, 2006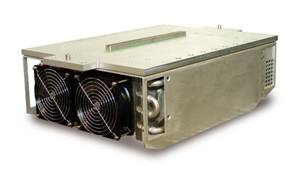 HAUPPAUGE, New York-September 29, 2006 -- Spellman High Voltage Electronics Corporation (Hauppauge, NY) announces the expansion of the Monoblock® series of X-Ray sources. New methods of high voltage packaging and thermal management now allow Monoblock® X-Ray sources to power integrated X-Ray tubes at voltages of up to 200kV and power levels up to 1000 watts. Spellman's series of Monoblock® X-ray sources eliminates the problematic external high voltage cabling by integrating the high voltage power supply, the filament power supply and X-Ray tube into one compact, easy to use package.
Spellman has leveraged two decades of experience designing rotating medical CT generators to now offer Monoblock® solutions for a wide variety of rotating security screening and explosive detection systems, CT-based imaging scanners, food and fill level inspection systems, non destructive testing devices and bone densitometers.
The Monoblock® can be designed in a wide variety of geometries with beam shape, focal spot size and other critical parameters customized for a particular application.
Spellman's Monoblock® X-Ray sources are used daily to power thousands of Carry-On Baggage, Checked Baggage, and Cargo Scanners in airports around the world, in addition to TSA-approved explosive detection systems. Spellman continues to collaborate with leading security screening device manufacturers, innovating the next generation of X-Ray Screening technology, thus contributing to secure aviation transportation.
Technical literature and additional information on the Monoblock® Series, as well as all other Spellman products, is available by contacting Spellman High Voltage at (631) 630-3000, or by visiting the product's technical specifications.
Spellman High Voltage Electronics is the world's leading independent manufacturer of high voltage DC power supplies, Monoblock® X-ray generators and power systems for medical and industrial applications, semiconductor manufacturing, scientific instrumentation, telecommunications, X-ray and automatic test equipment. We specialize in providing custom designs to suit unique requirements. Spellman is headquartered in the U.S. and has facilities in the U.K., Japan, China, and Mexico that provide design, manufacturing, and service to our customers throughout the world.