In Remembrance of S. Merrill Skeist CEO and Owner of Spellman High Voltage 1918 - 2005
4月 21, 2005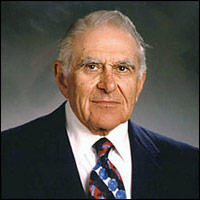 He graduated "with distinction" from Worcester Polytechnic Institute in 1940 with a B.S. in mechanical engineering. Shortly after graduation he went to work at Wright Field in Dayton, Ohio and was assigned to the Weapons Guidance Lab.
In the spring of 1942, he met his future wife, Marian Felman, and they were married a few months later. They had three children: Barry, Loren and Lisa.
In 1946, he accepted a position as VP of Sales in New York with the W.L. Maxson Corp. He was with Maxson until 1955, during which time he was responsible for developing a post-war market for radar-mapping, specialized analog computer and gyroscope products. After leaving Maxson, Merrill continued to work in OEM Electronics sales and marketing, while searching for a suitable entrepreneurial opportunity. He purchased Spellman High Voltage in 1968 from Bill Spellman, He immediately brought his customer focus and technical vision to bear, ensuring the incorporation of cutting-edge solid state designs. His consistent investment in R&D enabled many milestone products - such as the first power supply small enough to be placed on a CT gantry, a prerequisite for helical CT scanning. His leadership and vision grew Spellman over 100 fold, from its original seven employees to its current position as the leading independent global provider of D.C. high voltage power supplies, with more than 800 employees worldwide, and with facilities in New York, China, Japan, Mexico and the U.K.
Most recently, Merrill's efforts were devoted to developing an Energy Transfer Multiplexer (patent pending) to improve efficiency of wind power generation. Merrill remained active in Spellman until his final illness.
Merrill was involved in numerous philanthropic enterprises. He was an active fund raiser for the U.J.A. Federation, Technion and ORT. In addition, he was a Trustee of Long Island Jewish North Shore Medical Center and Worcester Polytechnic Institute - where he also served on the Board of Directors for 10 years. He and Marian were particularly devoted to the Gurwin Jewish Geriatric Foundation, for which he served as the Founding President from 1997 to 2003.
Merrill was the loving grandfather of seven grandchildren. He was an avid reader, swimmer and golfer.
He passed away on April 21, 2005 at the age of 86.