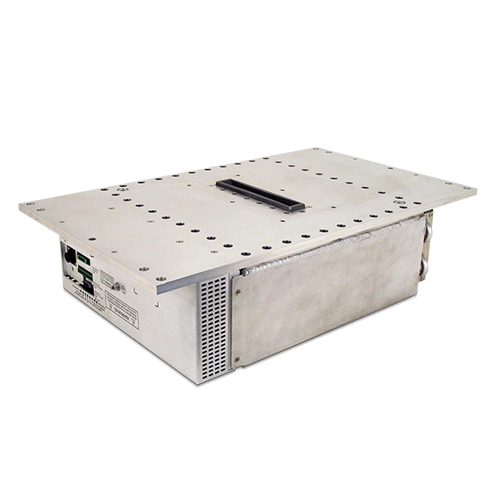 SERIE XRB200PN400
Fuente de alto voltaje con alimentación de filamento, tubo de rayos X, puerto de haz y electrónica de control integrados
Compacta y ligera
Entrada universal, factor de potencia corregido
Se puede montar en cualquier orientación física
Interfaz de monitoreo analógica e interfaz digital estándar RS-232
FUENTE DE RAYOS X DE 200 KV, 400 W
El generador de Rayos X XRB200PN400 Monoblock® de Spellman está diseñado para aplicaciones OEM que alimentan su tubo de rayos X interno de hasta 200 kV a 400 W. Características como la entrada universal, el tamaño pequeño, la monitorización analógica estándar y la interfaz RS-232 digital simplifican la integración de esta unidad en su sistema de rayos X. Los modelos estándar están disponibles con geometría de haz en forma de abanico. Los circuitos patentados de control de emisiones proporcionan una excelente regulación de la corriente del tubo de rayos X, junto con un rendimiento de estabilidad excepcional.
Aplicaciones típicas:
Barrido con rayos X: inspección de alimentos
Confirmación de nivel de llenado
Aplicaciones de seguridad
(Ref. 128085-001 REV. H)
X-Ray Characteristics:
Tube Type: Glass tube, Tungsten target, Be filter
Focal Spot: 0.8mm X 0.5mm (IEC336)
Beam Filter: Glass 1.8mm, Oil 10mm, Aluminum 1mm
Beam Geometry: Symmetrical fan 85° x 10° ±1°
Input Voltage:
100Vac-240Vac ±10%, 50/60Hz, 6A maximum
X-Ray Tube Voltage:
Nominal X-Ray tube voltage is adjustable between 100kV to 200kV
X-Ray Tube Current:
0.5mA to 2mA over specified tube voltage range
X-Ray Tube Power:
400W maximum continuous (350W average without external forced air)
Voltage Regulation:
Line: ±0.1% for a ±10% input line change
Load: ±0.1% for a 0.5mA to 2mA load change
Voltage Accuracy:
Voltage measured across the X-Ray tube is within ±1% of the programmed value
Voltage Risetime:
<1 second from 10% to 90% of rated output
Voltage Overshoot:
5% in less than 100ms
Voltage Ripple:
≤ 0.2% p p of rated maximum voltage
Current Regulation:
Line: ±0.1% @ 100-200kV, 0.25mA to 2mA
Load: ±0.5% @ 100-200kV, 0.25mA to 2mA
Current Accuracy:
Current measured through the X-Ray tube is within ±1% of the programmed value
Current Risetime:
<1 second from 10% to 90% of rated output
Arc Intervention:
4 arcs in 10 seconds = shutdown
Filament Configuration:
Internal high frequency AC filament drive with closed loop filament emission control
Digital Interface:
RS-232 interface.
Control Software:
A demo GUI for engineering evaluations will be provided for the RS-232 digital interface upon request.
Interlock Signals:
A hardware interlock function is provided
Operating Temperature:
0°C to +40°C
Storage Temperature:
-40°C to +70°C
Humidity:
5% to 95% relative humidity, non-condensing
Cooling:
Heat exchanger w/fan and oil pump, powered from 24Vdc, 2A power supply (customer provided). External forced air cooling if needed to keep oil temperature below 55°C
Input Line Connector:
3 pin Phoenix Contact 1829167
Analog Interface Connector:
10 pin Phoenix Contact 1755503
Digital Interface Connector:
9 pin D connector, female
Grounding Point:
M5 ground stud provided on chassis
Dimensions:
See drawing
Weight:
148.0lbs (67.0kg)
Orientation:
Can be mounted in any orientation.
X-Ray Leakage:
Not to be greater than 5uSv/hr at 5cm outside the external surface.
AC INPUT POWER 3 PIN PHOENIX CONTACT
| Pin | Signal | Parameters |
| --- | --- | --- |
| 1 | Line | Line |
| 2 | GND | Ground |
| 3 | Neutral | Neutral |
DC POWER FOR HEAT DISSIPATION UNIT 4 PIN AMP 206061-1 CONNECTOR
| Pin | Signal | Parameters |
| --- | --- | --- |
| 1 | +24 | +24Vdc |
| 2 | RTN | Return |
| 3 | +24 | +24Vdc |
| 4 | RTN | Return |
ANALOG INTERFACE— 10 PIN PHOENIX CONTACT
| Pin | Signal | Parameters |
| --- | --- | --- |
| 1 | X-Ray | +24Vdc = enable X-Ray |
| 2 | X-Ray Return | X-Ray Return |
| 3 | N/C | N/C |
| 4 | kV Monitor Output | 0 to 9Vdc = 0 to 100% Rated Voltage |
| 5 | SGND | Signal Ground |
| 6 | mA Monitor Output | 0 to 9Vdc = 0 to 100% Rated Current |
| 7 | Fault | Open Collector, Open = No Fault |
| 8 | Relay N/O | HV On, 50V @ 1A maximum |
| 9 | Relay Common | HV On, 50V @ 1A maximum |
| 10 | Relay N/C | HV On, 50V @ 1A maximum |
RS-232 DIGITAL INTERFACE— 9 PIN FEMALE D CONNECTOR
| Pin | Signal | Parameters |
| --- | --- | --- |
| 1 | N/C | No Connection |
| 2 | Transmit Data | Conforms to E/A RS-232-C |
| 3 | Receive Data | Conforms to E/A RS-232-C |
| 4 | N/C | No Connection |
| 5 | SGND | Signal Ground |
| 6 | N/C | No Connection |
| 7 | N/C | No Connection |
| 8 | N/C | No Connection |
| 9 | N/C | No Connection |
DIMENSIONS: in.[mm]
FRONT VIEW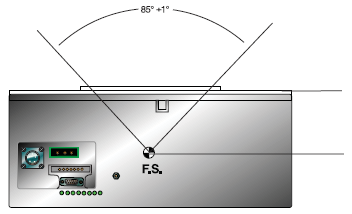 BACK VIEW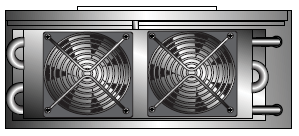 TOP VIEW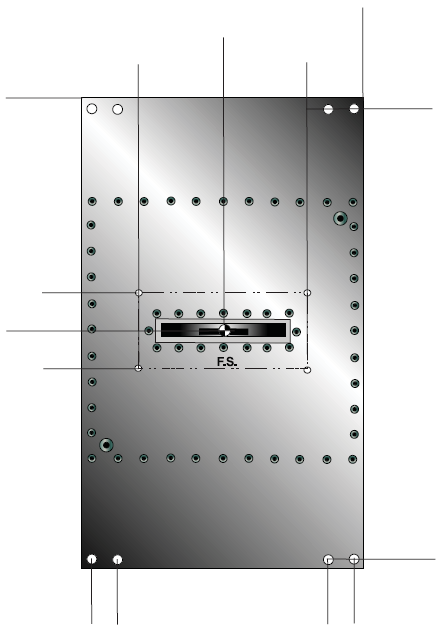 SIDE VIEW