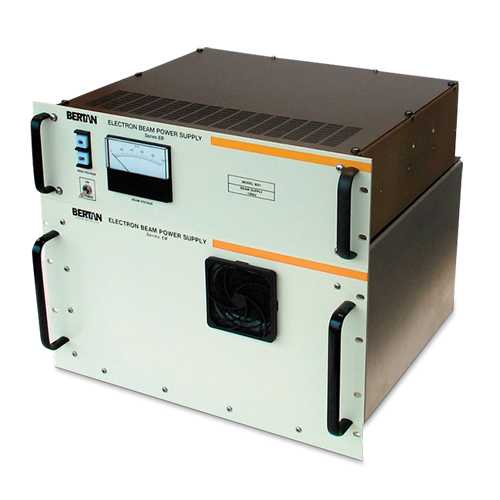 SERIE VS100
Fuente de alimentación de alto voltaje para haz de electrones de 100 kV
Selección de corriente de salida baja/alta de 10 μA/100 μA
Menos de 75 mV de rizo
Excelente regulación y estabilidad de funcionamiento
Diseño encapsulado sólido/libre de aceite
FUENTE DE ALIMENTACIÓN DE ALTO VOLTAJE PARA HAZ DE ELECTRONES
La fuente de alimentación de alto voltaje Bertan VS100 fue diseñada específicamente para aplicaciones de precisión de haz de electrones tales como nanolitografía de semiconductores, óptica microscópica y desarrollo de máscaras. Sus especificaciones de rizo ultra bajo y excelente estabilidad la hacen ideal para utilizarse en estas demandantes aplicaciones. Cuenta con la función de selección de rango de salida de corriente alto y bajo mediante interruptor.
La sección de alto voltaje con encapsulado sólido elimina cualquier problema de mantenimiento para el usuario, a la vez que aísla los componentes de las variables ambientales. La unidad está completamente protegida contra sobrecargas, arcos y cortocircuito. Cuenta con función de programación y monitoreo a control remoto. Se suministra con un segundo monitor de alto voltaje, separado de la electrónica de control. Esto permite una medición pasiva precisa de la salida de alto voltaje.
Aplicaciones típicas:
Óptica microscópica
Litografía de semiconductores
Trabajo de desarrollo de máscaras

(Ref. 128045-001 REV. G)
Input Voltage:
220Vac, ±10%, single phase 50/60 Hertz
Output Voltage:
0 to 100kV, negative polarity. Externally switch selectable to 105kV, ±500 volts
Output Current:
0-10µA, low range
0-100µA, high range
Switch selectable
Line Regulation:
±0.001% of rated voltage over specified input voltage range
Load Regulation:
≤20V for a current change of 25μA to 60μA and 60μA to 25μA
Ripple:
≤75mV peak to peak
Partial High Voltage Discharge:
less than 200mV
Stability:
0.001% per 8 hours after a 6 hour warm up, for a temperature of 20°C ±0.2°C
Temperature Coefficient:
50ppm per degree C over a 10°C to 40°C range
Environmental:
Operating Temperature: 0 to 40 degrees C
Storage Temperature: -40 to 85 degrees C
Humidity: 10 to 90% RH, non condensing
Cooling:
Forced Air-control chassis;
Convection Cooled- high voltage chassis
Front Panel:
Power ON/OFF switch
HV ON/OFF switch
HV ON/OFF indicator
Analog output voltage meter
Dimensions:
Control Chassis: 5.25. H X 19. W X 15.3. D (13.3cm X 48.3cm X 38.4cm)
HV Chassis: 10.25. H X 19. W X 27. D (26.7cm X 48.3cm X 55.9 cm)
Weight:
Control Chassis: 20 pounds (9kg)
HV Chassis: 116 pounds (50kg)
Interface Connector:
19 pin Burndy GOB1619SNE (mating connector provided)
AC Input Connector:
3 pin IEC320 input socket
Output HV Connector:
Claymount 2050-073
Output HV Cable:
Detachable at rear panel, cable not provided.
REMOTE INTERFACE CONNECTOR
| Pin | Signal | Signal Parameters |
| --- | --- | --- |
| A | -5V Reference | -5.0 volts @ 10mA output |
| B | Voltage Programming | 0 to -5v = 0 to 100% rated output, Zin = 100KΩ |
| C | Spare | N/C |
| D | Spare | N/C |
| E | Monitor Common | Ground |
| F | HV Stat | TTL High = HV OFF, TTL Low = HV ON |
| G | +5V | 5 volts @ 250mA output |
| H | Interlock | Ground or TTL low to enable interlock |
| J | Program Common | Ground |
| K | Spare | N/C |
| L | Spare | N/C |
| M | Spare | N/C |
| N | Spare | N/C |
| P | Voltage Monitor | 0 to -5V = 0 to 100% rated output, Zout =10KΩ |
| R | Current Monitor | 0 to -5V = 0 to 100% rated output, Zout =10KΩ |
| S | Spare | N/C |
| T | Spare | N/C |
| U | Spare | N/C |
| V | Spare | N/C |
DIMENSIONS: in.[mm]
FRONT VIEW

TOP VIEW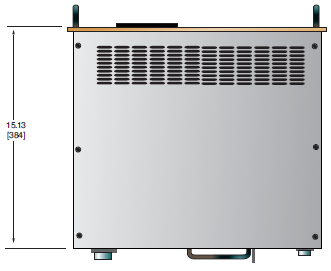 BACK VIEW

HV CHASSIS
FRONT VIEW
TOP VIEW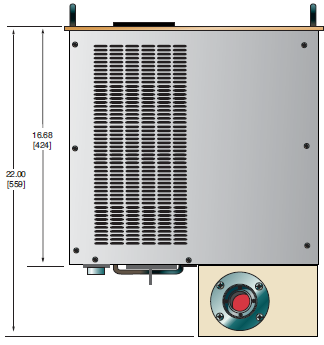 BACK VIEW