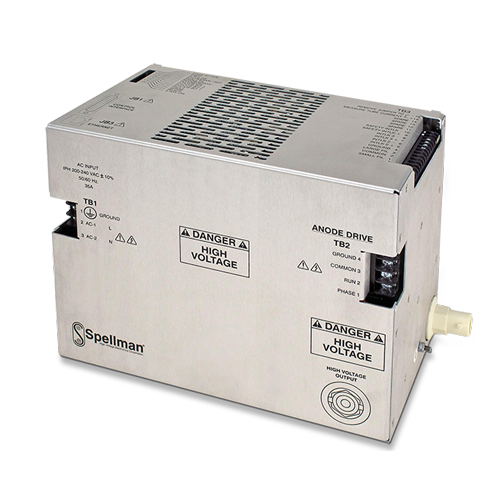 SERIE VMX
Diseño personalizado específico para aplicaciones de mamografía
Ajuste rápido que ayuda a minimizar la exposición del paciente a la radiación
Arrancador de doble velocidad, capacidad de impulso/freno
Interfaces RS-232 y Ethernet opcionales
Bajo costo, valor añadido, diseño modular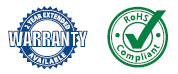 GENERADORES DE RAYOS X PARA MAMOGRAFÍA DE 5 KW
La serie VMX de Spellman redefine el estándar de los generadores de rayos X para mamografía de alto desempeño y bajo costo. La VMX fue hecha a partir de una perspectiva de diseño integral, de alto desempeño y valor añadido, de tal forma que no hay necesidad de afectar especificaciones importantes para cumplir los siempre demandantes objetivos de precio del sistema.
El generador de rayos X de 40 kV/5 kW integra una fuente de alimentación doble y un arrancador de doble velocidad. Una fuente de alimentación de filamento de CD proporciona tiempos de elevación rápidos con corrientes de emisión del tubo de rayos X estables y precisas. La sección de salida de alto voltaje de encapsulado sólido elimina las preocupaciones con respecto al aceite, a la vez que reduce los efectos de la humedad y contaminación ambiental.
Cuenta con flexibilidad de interfaces a través de una interfaz RS-232 y conectividad opcional Ethernet. La VMX admite características de aplicación de mamografía avanzada incluyendo un AEC de exposición inteligente, calibración de filamento automática, calculadora de calor del ánodo del tubo y una biblioteca de tubos configurable por el usuario. Compacta, con funcionalidad completa, de alto desempeño y bajo costo. VMX de Spellman, la siguiente generación de generadores de rayos X para mamografía.

(Ref. 128092-001 REV. L)
Input Voltage:
200-240Vac (±10%), single phase, 50Hz/60Hz
Input Current:
Minimum 35A service recommended for 5kW operation
External EMC Filter (Schaffner FN2070-36-08-36A) required to meet CE/EMC specifications – Not provided with the generator
Mains Contactor – Not provided within the generator. Customer is responsible for mains safety disconnection.
Output Voltage
Output Voltage Range: 20kV to 40kV
Polarity: Positive, grounded cathode X-Ray tube
Accuracy: Within 1% of programmed values
Reproductibility: <0.5%
Settling Time: <10ms
Ripple: ≤ 1%
Stability: ≤ 0.01% per 8 hours
Temperature Coefficient: ≤ 100ppm/°C
Output Current/Power
Output Current Range: 10mA to 200mA
Output Power: 5kW @ 0.1 second loading time
Maximum mAs:
600mAs
Exposure Timer:
5ms-10 seconds
Accuracy:
Within 2% of programmed values measured after mA rises to stable DC level
Reproductibility:
<0.5%
Settling Time:
<10ms
Filament Configuration:
DC filament drive: self corrected filament preheat settings with closed loop emission control and smart learning algorithm
Filament Output:
0-6 amps at a compliance of 5.5 volts, maximum
Dual Speed Starter:
High speed (180Hz) and low speed (60Hz) can be configured via the serial interface.
Boost and Brake capability provided.
High Voltage Connector:
60kV, Claymount CA-3 type or equivalent
Optional Communication Interface:
Ethernet (RJ45)
Grounding Point:
M5 ground stud provided on chassis
Environmental:
Temperature Range:
Operating: 10°C to 40°C
Storage: -40°C to 85°C
Humidity:
20% to 85% RH, non-condensing.
Cooling:
Convection cooled, no internal fans. Forced air cooling not required
Dimensions:
9.38. H X 6.6. W X 12. D (237.5mm x 167.6mm x 304.8mm)
Weight:
<22 pounds (10kg
Regulatory Approvals:
Compliant to EMC:IEC 60601-1-2. UL/CUL recognized file E242584. RoHS compliant.
Application Features:
2 point/3 point exposure modes
AEC/Smart AEC exposure modes
Automatic filament current calibration
Tube anode heat calculator
User configurable tube library
TB2 ROTOR INTERFACE
| Pin | Signal | Parameters |
| --- | --- | --- |
| TB2-1 | PHASE | To tube auxiliary winding |
| TB2-2 | RUN | To tube principle winding |
| TB2-3 | COM | To tube common winding |
| TB2-4 | GROUND | To tube housing ground |
TB3 TUBE AND INTERLOCK INTERFACE
| Pin | Signal | Parameters |
| --- | --- | --- |
| TB3-1 | SMALL FIL | Connection to tube small filament |
| TB3-2 | COMMON | Connection to tube filament common |
| TB3-3 | LARGE FIL | Connection to large filament |
| TB3-4 | GROUND | Generator chassis for cable shield connection |
| TB3-5 | Interlock 2+ | Used if tube has separate thermostat switch. Open = OVER TEMP. (short terminals if not used) |
| TB3-6 | Interlock 2- | Used if tube has separate thermostat switch. Open = OVER TEMP. (short terminals if not used) |
| TB3-7 | Interlock 3+ | Used if tube has cooling circulator flow switch. Open = NO FLOW. (short terminals if not used) |
| TB3-8 | Interlock 3- | Used if tube has cooling circulator flow switch. Open = NO FLOW. (short terminals if not used) |
| TB3-9 | Safety Interlock+ | User signal (Contact Closure) for safety interlocks such as door interlocks. Open turns HV OFF, or inhibits HV from being generated. Closed = OK 24Vdc @ <1A typical |
| TB3-10 | Safety Interlock- | User signal (Contact Closure) for safety interlocks such as door interlocks. Open turns HV OFF, or inhibits HV from being generated. Closed = OK 24Vdc @ <1A typical |
| TB3-11 | Contactor Coil+ | Option for contactor coil control |
| TB3-12 | Contactor Coil- | Option for contactor coil control |
| TB3-13 | Spare | N/C |
| TB3-14 | Spare | N/C |
| TB3-15 | Tube Current+ | Tube current flows out from this pin |
| TB3-16 | Tube Current- | Tube current flows into this pin |
VMX STANDARD SYSTEM INTERFACE—JB1 25 PIN MALE D CONNECTOR
Pin
Signal
Parameters
1
GND
Signal Ground
2
+5Vdc Out
+5Vdc, 100mA max.
3
RS-232 Tx Out
RS-232 Transmit
4
RS-232 Rx In
RS-232 Receive
5
PREP
User signal (Contact Closure) to alert the generator
that exposure sequence will begin. Once this signal
is active, exposure parameters are locked in and
cannot be changed. The generator enables the
starter to to boost the rotor. Contact connection
to pin 24. Closed = PREP, the filament is placed in
preheat mode
6
READY
Generator signal to user to indicate the rotor runs to
speed and the generator is ready for X-Ray exposure
Open Collector. Low/Active = Ready
7
ROTOR SHUTDOWN
User signal to brake the rotor drive
8
EXPOSURE
User signal (Contact Closure) to generator to
generate X-Rays. Filament is boosted, and high
voltage is generated after the boost time. Contact
connection to pin 24. Closed = Exposure
9
X-Ray ON 75% Status
Transistor output to indicate X-Ray ON status
synchronized with 75% of kVP setting point.
10
X-Ray ON Status
Transistor output to indicate X-Ray ON status
synchronized with kV start up.
11
N/C
N/C
12
X-Ray SHUTDOWN/AEC
User signal to generator to rapidly turn HV OFF and ON during serial exposure sequence

13
RS-232 ISO Ground
Isolated ground from RS-232 transceiver IC
14
HVG FAULT Status
Generator signal indicating generator fault. Open
collector transistor output. Low/Active = Fault
15
Status Bit 1
3 bit status lines for up to 6 status messages. See separate matrix descibing functionality. Open Collector. Low/Active = Message
16
Status Bit 2
17
Status Bit 3
18
N/C
N/C
19
N/C
N/C
20
kV Monitor
Signal from generator. 0-10V = 0-40kV. Zout = 1kΩ
21
Emission Monitor
Signal from generator. 0-10V = 0-200mA. Zout = 1kΩ
22
Filament Current Monitor
Signal from generator. 0-10V = 0-6A. Zout = 1kΩ
23
Program/Monitor Return
Ground for reference of program and monitor signals
24
+24Vdc Out
For connection to PREP and EXPOSURE control
relay coils
25
SHIELD/GND
For connection of interface cable shield to generator
chassis ground
DIMENSIONS: in.[mm]
FRONT VIEW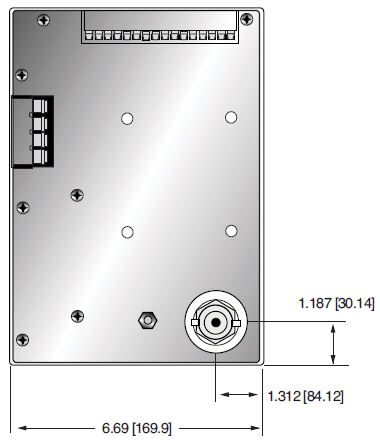 TOP VIEW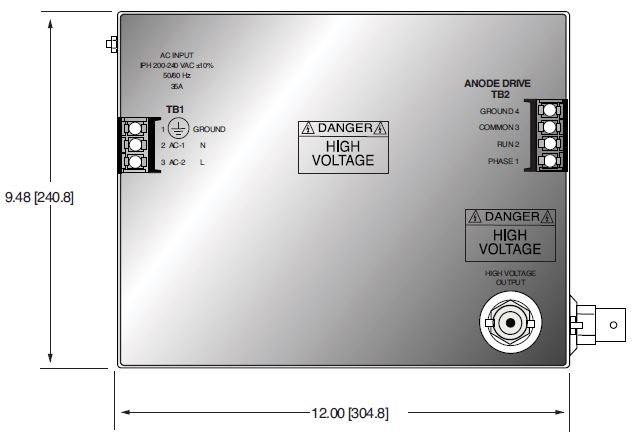 BOTTOM VIEW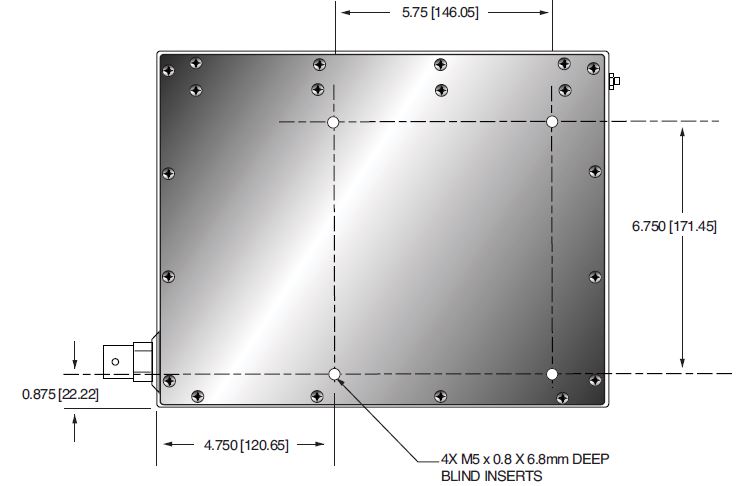 SIDE VIEW