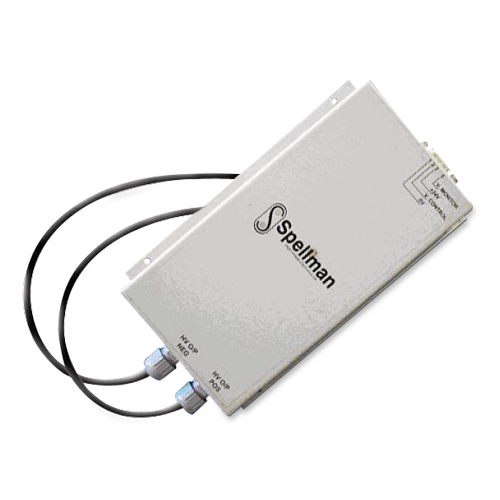 SERIE MCP
Salida flotante programable de 3 kV
Aislada hasta 15 kV
Buena regulación, bajo rizo
Carcasa metálica blindada compacta
CONVERTIDOR DE CD-CD DE ALTO VOLTAJE DE ALTO DESEMPEÑO
El módulo MCP de Spellman es un convertidor bien regulado de alto desempeño de CD-CD que cuenta con una salida flotante de 3 kV y está aislado hasta 16 kV. La especificación de bajo rizo del MCP lo hace ideal para su uso con detectores en aplicaciones de espectrometría de masas como: multiplicadores de electrones (EM), detectores de placas de microcanal (MCP) y multiplicadores de electrones de canal (CEM).
Este módulo de +3 kV a 330 μA está alojado en una carcasa metálica blindada. La unidad cuenta con programación de voltaje y monitor de voltaje remotos, y tiene un rizo de inyección bajo cuando se utiliza con alimentaciones de polarización. El módulo MCP se personaliza fácilmente para cumplir con los requisitos de las aplicaciones de OEM como un desempeño de rizo mejorado, estabilidad mejorada y terminales de cable de salida configurables según se requiera.
Aplicaciones típicas:
Espectrometría de masas
Placas de microcanal
Fuente multiplicadora de electrones
Multiplicadores de electrones de canal

(Ref. 128027-001 REV. L)
Input Voltage:
+24Vdc, ±0.5 volts
Input Current:
600 mA maximum
Output Voltage:
+100V to +3kV, continuously variable over the entire output range
Output Current:
330uA maximum
Polarity:
Positive
Isolation Voltage:
Up to 15kV total to ground (resistance to ground 600M on each output)
Line Regulation:
≤ 0.01% for input voltage change of 1V
Load Regulation:
≤ 0.1% for a no load to full load change
Voltage Programming:
0 to 10 volt corresponds to 0 to 100% of rated output voltage
Voltage Monitor:
0 to 5 volts corresponds to 0 to 100% of rated output voltage
Accuracy:
±1% from 10% to 100% of output.
Below 10% accuracy spec is not guaranteed
Ripple:
≤ 0.1% Volts p-p, 0.1Hz to 1MHz
Stability:
≤ 1000 ppm/hour at constant operating conditions after a 1 hour warm up
Temperature Coefficient:
≤ 300ppm per degree C
Environmental:
Temperature Range:
Operating: 0°C to 40°C
Storage: -40°C to 85°C
Humidity:
10% to 90%, non-condensing.
Cooling:
Convection cooled
Dimensions:
1.49. H X 4.09. W X 6.73. D (38mm X 104mm X 171mm)
Weight:
2.2 pounds (1kg)
Interface/Power Connector:
9 pin male D connector
High Voltage Output Cable:
HV positive: 29.5" (750mm) fly wire, URM76 coaxial HV cable
HV negative: 29.5" (750mm) fly wire, URM76 coaxial HV cable
Regulatory Approvals:
Compliant to EEC EMC Directive. Compliant to EEC Low Voltage Directive.2006/95/EC, The Low Voltage Directive.
MCP INTERFACE/POWER CONNECTOR
| JB1 | Signal | Signal Parameters |
| --- | --- | --- |
| 1 | Signal Ground | Signal Ground |
| 2 | Voltage Programming Input | 0-10Vdc = 0-100% of Rated Output |
| 3 | +24V Input | +24V Input |
| 4 | +24V Input | +24V Input |
| 5 | Voltage Monitor | 0-5Vdc=0-100% of Rated Output |
| 6 | Power Ground | Power Ground |
| 7 | Power Ground | Power Ground |
| 8 | Power Ground | Power Ground |
| 9 | Power Ground | Power Ground |
DIMENSIONS: in.[mm]
FRONT VIEW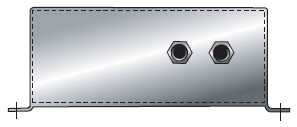 BACK VIEW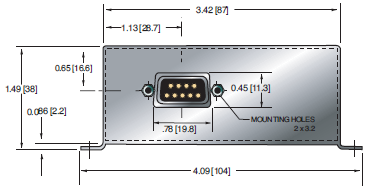 TOP VIEW