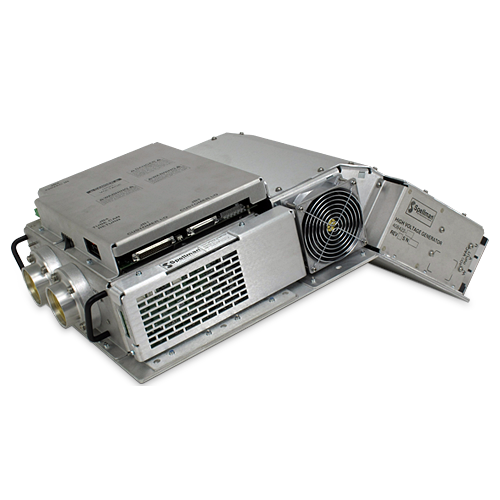 CT Generator
* Ask about our subsystem capabilities
32kW / 42kW / 50kW models with same dimensions and interface for ultimate flexibility
Compact gantry mounting saves space, time and weight
16/32 slice with 0.5 rotation covering all clinical needs
Optional grid box for deflection or cut off provide dose control and improves image quality
Integrated fully programmable starter
Compatible with all industry standard X-Ray tubes
*Note: All specifications are subject to change without notice. Please consult the English PDF version of this datasheet for the most up-to-date revision.
GENERADORES DE RAYOS X PARA APLICACIONES DE ESCÁNERES ROTATIVOS DE CT
Spellman High Voltage ha diseñado, fabricado y suministrado generadores de CT para OEM por alrededor de tres décadas. Tenemos una incomparable experiencia siendo el primer proveedor de un generador de CT utilizado en un escáner rotativo continuo de aplicación comercial en 1985. Desde entonces, Spellman ha mejorado el funcionamiento y desarrollo de nuevos generadores de CT año tras año, estableciendo el estándar para la tecnología de generadores de CT.
Spellman High Voltage ha fabricado más de 30,000 generadores de CT. Tenemos el conocimiento, la capacidad y la experiencia para suministrar la tecnología de CT que usted necesite.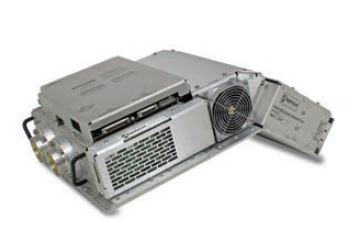 Generador "compacto" CT (Tomografia Computarizada) en chasis individual de 32/42/50kW 16-64 Segmentos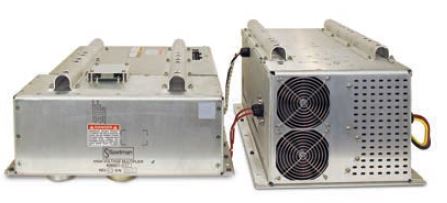 Generador de CT "de alto desempeño" de 50/80 kW de 16-128 cortes con deflexión de cuadrícula/Z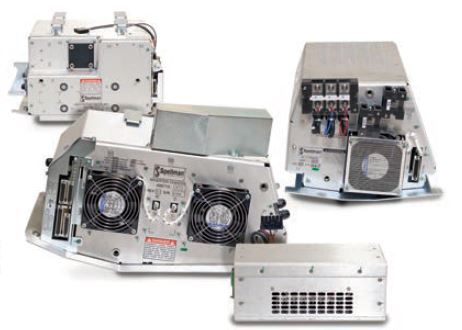 Generador de CT "de lujo" de 110 kW de 64-264 cortes para sistemas de CT de última tecnología
Model
32/42/50kW Compact CT Generator
50/80kW CT Generator
110 kW CT Generator
Model Designation
CCT70PN32 CCT70PN42 CCT70PN50
CT70PN50 CT70PN80
CT140N110
Input Power
400Vac, 3Ø, +15%/-20%, 50/60Hz
Auxiliary Input Power
220/230Vac, 1Ø
+15%/-10%, 50/60Hz
220/230Vac, 1Ø
+15%/-10%, 50/60Hz

Not Required
kV Output Range
60kV - 140kV
(bipolar, 30kV – 70kV)
60kV - 140kV
(bipolar, 30kV – 70kV)
60kV - 140kV
Anode grounded
kV Output Accuracy
±0.5% of setting
mA Output Range
10mA – 350mA,
42kW maximum
10mA – 420mA / 50kW maximum
10mA – 667mA / 80kW maximum
6mA to 900mA,
110kW maximum
mA Regulation/Accuracy

2% or 2mA or which is
er for 20mA -350mA

2% or 1mA or which is
larger for 20mA -420mA
2% or 1mA or which is
larger for 20mA -900mA
Filament Output
2 outputs: 15Vac @ 0-6A
up to 8A available
1 output: 15Vac @ 0-6A,
up to 15A available
1 output: 10Vac @ 0-8A,
Filament Accuracy
±5% of setting
±5% of setting
±2% from 25% to 75%, 5% above
Filament Repeatability
±0.2%
Starter
HSS configured to match
X-Ray tube used
Interface
Custom serial interface
Rotation
Up to 120 rpm
Up to 120 rpm
Up to 240 rpm
Configuration
Single Chassis
Two chassis
Four chassis
Grid Option
n/a
Dual grid/single filament, 0-4kV @ 0-4kHz
n/a
Magnetic Z
Deflection Option
n/a
Ground based single channel beam steering
n/a
Please consult factory regarding product configuration availability and regulatory requirements for specific markets