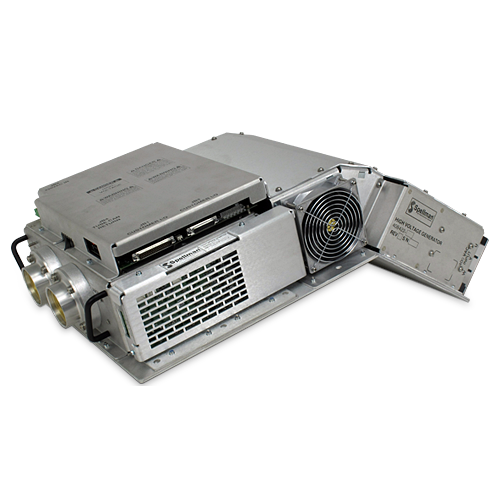 CT GENERATOR
* Pregunte sobre nuestras capacidades de subsistema
32, 42 y 50kW todos en la misma forma y volumen.
Utiliza la interfaz SPI propia de Spellman (compatible con otros generadores Spellman CT)
Corte de 16/32 con rotación de 0.5 segundos
Admite la opción de Grid externo de Spellman.
Control de Ánodo Integrado (compatible con rodamientos de bolas o de metal líquido)
*Nota: Todas las especificaciones están sujetas a cambios sin previo aviso. Consulte la versión en PDF en inglés de esta hoja de datos para obtener la revisión más actualizada.
Spellman CCT Series | CT X-Ray Generators
Spellman High Voltage ha estado diseñando, fabricando y proporcionando generadores CT para clientes OEM durante más de tres décadas. Tenemos una experiencia inigualable siendo el primer proveedor de un generador de CT utilizado en un escáner de CT giratorio continuo disponible comercialmente en 1985. Desde entonces, Spellman ha mejorado el rendimiento y ha desarrollado nuevos generadores CT año tras año, estableciendo el estándar para la tecnología de generadores CT.
La serie CCT de generadores CT de Spellman proporciona una combinación única de rendimiento y precio. Ideal para el escáner económico de CT de 16 cortes, este generador tiene la capacidad de escalarse de 32kW a 50kW. Su tamaño compacto y su curvatura única lo hacen adecuado para diseños de portales de tamaño pequeño. Diseñado para emparejarse fácilmente con muchos tubos de CT listos para usar.
(Ref. 128125-001 REV. A)
OPTIONS
DG: Deflection Grid
CG: Cutoff Grid
SPECIFICATIONS

Input Voltage:
Main: 400Vac, three phase, +15%/-20%, 50/60Hz
Auxiliary: 220/230Vac, single phase, +15%/-10%, 50/60Hz
Output Voltage:
Range: 60kV to 140kV (bipolar, 30kV to 70KV)
Accuracy: ±0.5% of setting
Output Current:
Range: 10mA to 420mA, 50kW maximum.
10mA to 420mA, 50kW maximum.
10mA to 420mA, 50kW maximum.
Filament Output:
Auto reversible via front panel switch
Output Current:
Type: Two filament outputs, large and small
Voltage/Current: 15Vac (30kHz-40kHz) @ 0-6A maximum, referenced to cathode output
Power:
Maximum mA: 420mA, 50kW maximum
Maximum kV: 140kV, 50kW maximum
Peak: 50kW
Maximum mA: 350mA, 42kW maximum
Maximum kV: 140kV, 42kW maximum
Peak: 42kW
Maximum mA: 275mA, 32kW maximum
Maximum kV: 140kV, 32kW maximum
Peak: 32kW
Gantry Rotation:
0.5 seconds
Starter:
Type: Dual Speed Starter
Compatibility: All industry standard X-Ray tubes
GRID SPECIFICATIONS
Deflection Grid: The deflection grid (also called the Flying Focal Spot) allows for dynamic movement of the focal spot providing double X sampling which increases effective resolution while decreasing unwanted artifacts.
Type: Deflection grid, single box assembly

Input Power: 24Vdc, ±10% @ 4.2A maximum, negative input ties to chassis ground internally

Connectors:
High Voltage Input: 3 pin 75kV Federal Standard (Cathode, Large, Small)
High Voltage Output: 4 pin 75kV CA7 (Cathode, Large, G1, G2)
Number of Grids: 2 grids, switching out of phase Bandwidth: DC to 5kHz
Output Voltage: 0V to -4KV, from grid to cathode. User input will command the bi-level grids to switch between adjustable voltages, VLOW and VHI. The two grids switch out of phase: If G1 is at VLOW, G2 will be at VHI and vice versa. The VLOW and VHI levels for G1 and G2 are independently adjustable from 0 to -4KV but VLOW range is constrained by: |VLOW | ≤ | VHI |
Cutoff Grid:
A cutoff grid truncates the high voltage at the end of the X-Ray exposure, reducing patient radiation dosing that does not contribute to the imaging process.
Type: Cutoff grid, single box assembly Input Power: 24Vdc, ±10% @ 0.75A maximum, negative input ties to chassis ground internally
Connectors:
High Voltage Input:
3 pin 75kV Federal Standard (Cathode, Large, Small)
High Voltage Output:
4 pin 75kV CA7 (Cathode, Large, G1, G2)
Number of Grids:
One, switched between "Zero" (0V≥Vg-c ZERO ≥ -10V) and "Cutoff" (Vg-c CUTOFF = -4kV±10% @ steady state)

CCT X-RAY GENERATOR
DIMENSIONS: in.[mm]
TOP VIEW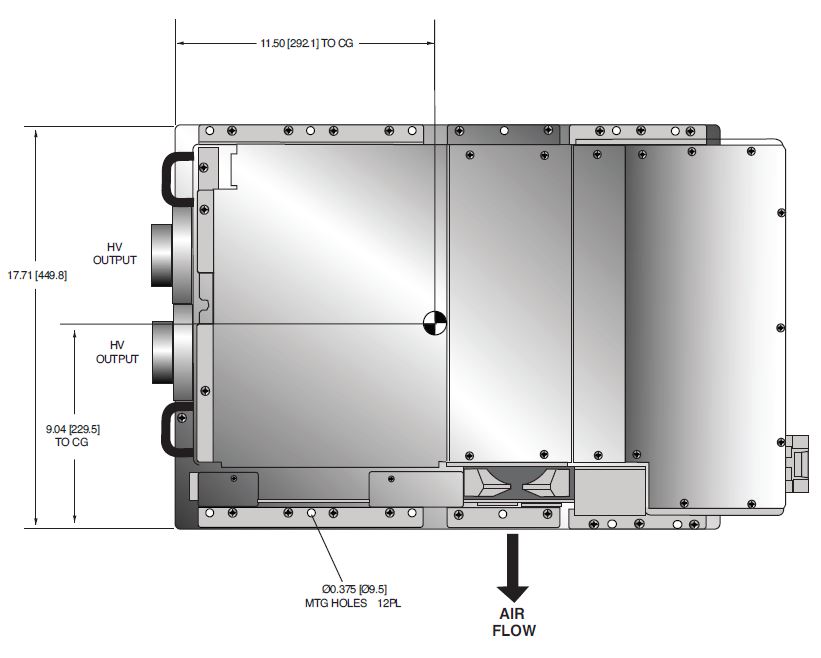 SIDE VIEW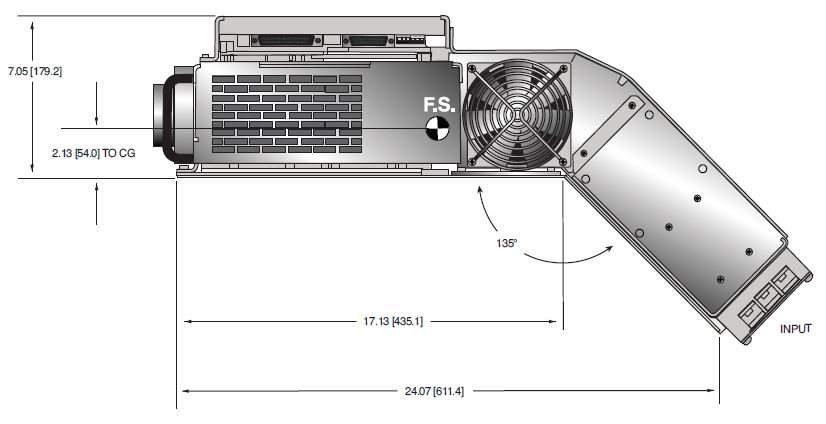 DEFLECTION / CUTOFF GRID
DIMENSIONS: in.[mm]
TOP VIEW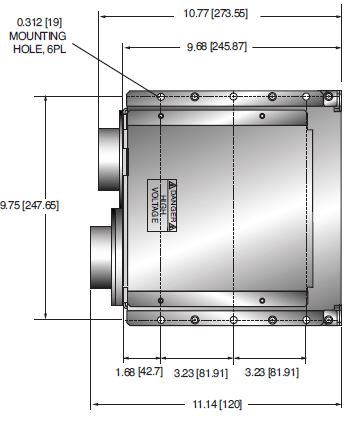 SIDE VIEW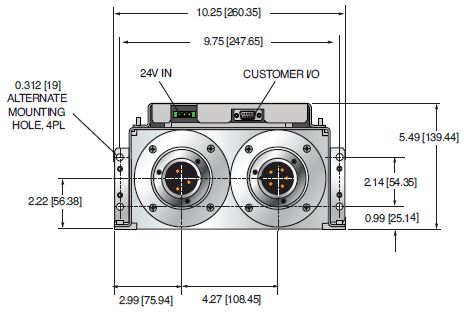 FRONT VIEW