SERIE PDM
Fuente de rayos X con filamento integrado, puerto de tubo y haz
Caja de la electrónica de control separada
Compacta y ligera
Interfaz de control analógica o digital
FUENTE DE RAYOS X PANORAMA DENTAL
La fuente Panoramic Dental Monoblock (PDM) de Spellman consiste en un tubo de rayos X, una fuente de alimentación de alto voltaje de salida doble y una fuente de filamento con sistema de circuitos de control integrados. La PDM está diseñada para aplicaciones de rayos X dentales extra orales, incluyendo rayos X de CT y panorámicos. Las funciones tales como el tamaño compacto, la interfaz analógica estándar y la interfaz digital RS-232, simplifican la integración de la PDM en su sistema de rayos X. El circuito de control de emisión de diseño propio proporciona una regulación excelente de la corriente del tubo de rayos X, además de una sobresaliente estabilidad y desempeño.
Aplicaciones típicas:
Rayos X dentales: imágenes panorámicas y de CT
(Ref. 128109-001 REV. C)
X-Ray Tube Characteristics:
Target Angle: 5 degrees
Focal Spot: 0.5mm nominal
Beam Filtration: 3.0mm of Al equivalent
Beam Geometry: see page 3
X-Ray Tube Voltage:
Nominal X-Ray tube voltage is adjustable between 50kV to 90kV
Voltage Regulation:
Line: ±0.5% for a ±1V change of nominal input line voltage
Load: ±0.1% for a load change of 25µA to maximum rated current
X-Ray Tube Current:
1mA to 10mA over specified tube voltage range
Current Regulation:
Line: ±0.5% for a ±1V change of nominal input line voltage
Load: ±0.5% for a voltage change of 35kV to 80kV
X-Ray Tube Power:
900 watts peak power
Duty Cycle:
CT (Pulsed): ≤ 45 seconds scan time cycle at up to 40 pulses per second available

Panoramic (Continuous): Maximum scan time = 30s, with 60s off-time. Five consecutive scans
Input Voltage:
100-240Vac ±10% 50/60 Hz, 10 amps RMS maximum
Interface:
The RS-232 serial communications interface will be used to program and monitor output voltage and current, control various functions and report status and faults.
Digital Interface Connector:
RS-232: 9 pin D connector, male
Operating Temperature:
0°C to +40°C
Storage Temperature:
-20°C to +70°C
Humidity:
5% to 95% relative humidity, non-condensing
Cooling:
Convection
Dimensions:
X-Ray Tank: 9.7"W X 7.7"H X 4.7"D (247mm X 195mm X 119mm)
Inverter/Controller: 7.10"W X 9.80"H X 3.60"D (180mm X 250mm X 92mm)
Weight:
X-Ray Tank: 17lbs (7.7kg)
Inverter/Controller: 6.5lbs (3kg)
X-Ray Leakage:
Less than 100mR/hour (or <1mGy/hr) @ 1meter from the Monoblock® surface.
Regulatory Approvals:
Compliant to EMC 60601-1-2. UL/CUL recognized file E242584.
| Pin | Signal | Parameters |
| --- | --- | --- |
| 1 | X-Ray Ready/Sync | +5 V Logic |
| 2 | X-Ray Enable | +5 V Logic |
| 3 | + X-ray Signal (Exgate) | +5VDC = Enable X-Ray, Low (or Open) = Disable X-Ray |
| 4 | Signal Ground | Signal Ground |
| 5 | VMTR Signal (KV monitor) | Voltage: 0 to +5.00 V max, Scale Factor: 0 – 5.00 Vdc = 0 to 100 kV |
| 6 | Signal Ground | Signal Ground |
| 7 | IMTR Signal (mA monitor) | Voltage: 0 to +5.00 V max, Scale Factor: 0 – 5.00 Vdc = 0 – 12.1mA |
| 8 | Fault Signal | Output signal: Open Collector, High (Open) = No Fault |
| 9 | HV ON Lamp, Relay N/O | Relay Normally Open, Dry contacts rated 1A or less will handle a nominal 50mA DC load. |
| 10 | HV ON Lamp, Common | Common |
RS-232 DIGITAL INTERFACE— J5 9 PIN MALE D CONNECTOR
| Pin | Signal | Parameters |
| --- | --- | --- |
| 1 | N/C | No Connection |
| 2 | TX | Transmit Data |
| 3 | RX In | Receive Data |
| 4 | N/C | No Connection |
| 5 | SGND | Signal Ground |
| 6 | N/C | No Connection |
| 7 | N/C | No Connection |
| 8 | N/C | No Connection |
| 9 | N/C | No Connection |
LED INDICATORS
| Indicator | Signal Name | Condition Illuminated When... |
| --- | --- | --- |
| LED 1 | OV | High kV occurs |
| LED 2 | UV | Low kV occurs |
| LED 3 | UC | Low mA occurs |
| LED 4 | OC | High mA occurs |
| LED 5 | ARC FLT | Arc fault occurs |
| LED 6 | OT | Over temperature occurs |
| LED 7 | PW (Pulse mode) | Pulse mode selected |
| LED 8 | CW (CW mode) | CW mode selected |
| LED 9 | CW (CW mode) | X-Ray is ON |
DIMENSIONS: in.[mm]
PDM Generator Tank
TOP VIEW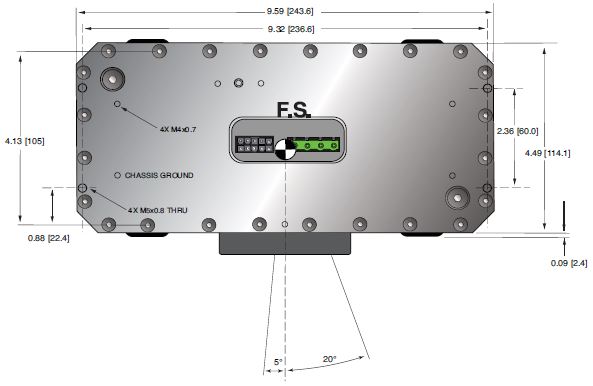 FRONT VIEW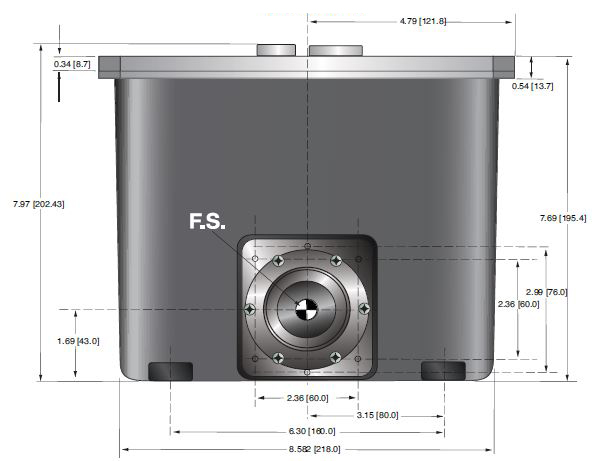 SIDE VIEW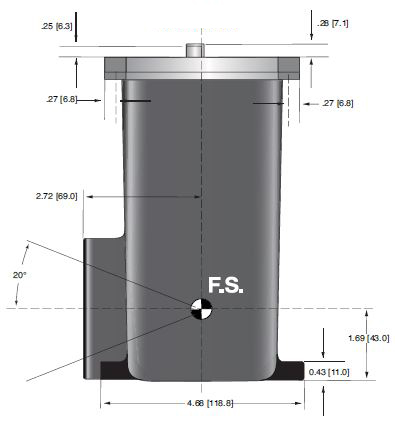 PDM Inverter/Controller
TOP VIEW

FRONT VIEW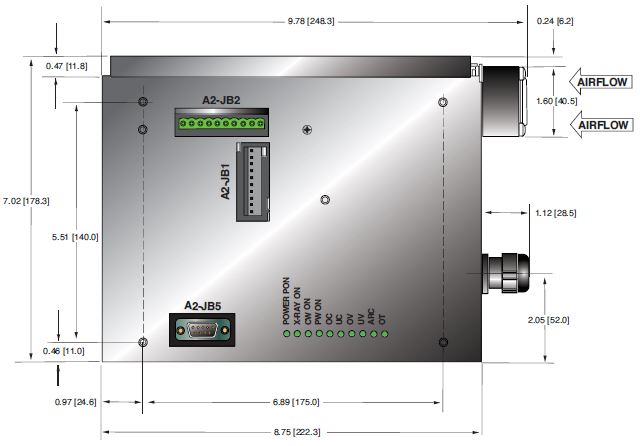 SIDE VIEW