Winners of the 2021 Spellman High Voltage Clean Tech Competition Announced
agosto 30, 2021
Hauppauge, NY – Spellman High Voltage Electronics Corporation, the world's largest independent manufacturer of custom high voltage power conversion products, is pleased to announce the winners of the 2021 Spellman High Voltage Clean Tech Competition.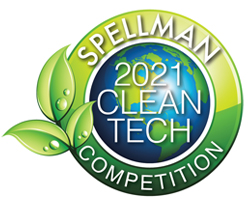 In its tenth year, the Competition is the only outcome-based STEM focused research and design challenge for pre-college students in the world. The program's goal is to inspire young people to pursue STEM studies and careers. The program is managed by New York-based, not-for-profit, Center for Science, Teaching & Learning, led by STEM Crusader and Advocate Dr. Ray Ann Havasy, and sponsored by Spellman High Voltage Electronics.
"We sponsor this competition to inspire this generation of students who are studying STEM to embrace what they have learned and pursue further studies and careers as scientists, engineers and doctors. They are needed to play a part in solving the world's current and future energy, environmental and health challenges. Each year the leadership of Spellman High Voltage Clean Tech Competition is increasingly impressed and inspired by the student competitors who demonstrate their new ideas and innovation," said Spellman President Dr. Loren Skeist.
"The U.S. and nations around the world must address the shortage of STEM educated people to fill millions of well-paying and rewarding jobs. This is the 10th Anniversary of the Clean Tech Competition, and we see the world is facing even greater challenges today. These inspiring students are playing a critical role in developing solutions. Each finalist team has been motivated to labor through the numerous challenges this past year to complete their research and projects, demonstrating their shared concern about the environment and their commitment to produce solutions using their STEM skills and knowledge. The Clean Tech Competition plays a critical role in spreading the message that STEM projects and studies can be fun, engaging and create opportunities for students to advance their academic careers," said Dr. Ray Ann Havasy, Executive Director of CSTL.
This year's competition theme, "Preserving Planet Earth", focused on ways to change the course of our environmental future. Responding to a call were over 400 teams, made up of 635 high school students from the US and around the world. Teams competed in one of two categories: high tech solutions and low-cost solutions to climate change and protecting resources using clean technology.
Twenty international teams, competing for a share of the US$60,000 in cash prizes, were selected as finalists. They presented their projects to judges live, online on August 5th. The winners were announced the following day, August 6th.
Winning first prize in the High Tech category, Team "Guardians of the GalaxSEA" from Hwa Chong Institution, Singapore, was Kiefer Ong, Pierre Yeap and See Jay Ng.
Winning first prize in the Low Cost category, Team "Cyclo.Plas 2" from Mountain House High School in Mountain House, California, was Jacqueline Prawira.
A full list of winners and teams, as well as presentations on their projects and a recording of the awards program, can be viewed here.
About Spellman High Voltage Electronics:
New York-based Spellman High Voltage Electronics, a family owned company established in 1947, is the preferred global supplier of precision DC high voltage power supplies and Monoblock® X-Ray sources for medical, industrial and scientific applications. It currently has over 2,000 employees in five design, six production and eight support centers in North America, Europe and Asia. Spellman partners with leading technology companies to advance medical care, industrial processes, quality control, scientific research, security and telecommunications by providing innovative high voltage power conversion solutions. For more information about Spellman High Voltage Electronics, visit www.spellmanhv.com.
About the Center for Science Teaching and Learning:
The Center for Science Teaching & Learning (CSTL) is a not-for-profit organization with a mission of encouraging science learning and literacy. CSTL develops programs for people of all ages and utilizes inquiry-based learning as its foundation for program development. This year marks the second for which CSTL is serving as the administrator of the Clean Tech Competition. For more information, visit www.cstl.org/cleantech. For more information about CSTL visit www.cstl.org.