Spellman High Voltage Announces Expanded Quick Delivery Program for the Scientific and Research Communities
enero 25, 2018
Hauppauge, New York – Spellman High Voltage Electronics Corporation, the world's largest independent manufacturer of custom high voltage power conversion products, announces the expansion of our already renowned support for our Scientific and Research customers.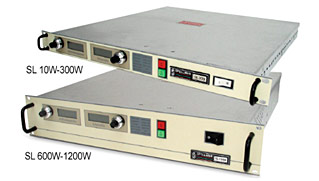 From Spellman's earliest days in the power conversion industry, through today, we have always played a major role in supporting basic and applied scientific research. Collaborating with leading researchers in fields as diverse as physics, chemistry, medicine, biology, electronics, materials, and astronomy, Spellman has developed products that enabled exciting advances in many disciplines.
"The crux of our expanded support is the development of our quick delivery program through which many of our Best in Class standard unit SL Series power supplies are available in stock for immediate delivery," said Robert Olivero, Technical Sales Manager at Spellman High Voltage. "And, as always, our extensive support staff consisting of application engineers, customer service representatives and sales engineers are readily available to respond to technical questions and RFQs promptly".
The SL Series product line are compact and lightweight rack mount units that are also invaluable for use in a laboratory bench top environment. Spellman's SL Series are designed to meet uncompromising performance stan¬dards in a minimum of space. Their circuitry includes a resonant high frequency inverter with proprietary control which provides fault-free operation in extreme transient and arcing environments with greater than 85% efficiency. Standard units are available for quick delivery through this program; customized products are also available.
"Our dedicated technical resources and wide range of high voltage power supplies form the basis of our strength in this area", added Mr. Olivero. "It is important to let our research customers know that Spellman is building on this base by constantly improving our service commitment to them, and, as such, is THE source for their high voltage requirements."
Information on Spellman and their wide range of high voltage products is available by calling Mr. Olivero at +1 631-630-3144 or by visiting Spellman's website: www.spellmanhv.com
Spellman High Voltage Electronics is the world's leading provider of custom designed and standard AC-DC and DC-DC high voltage power converters and Monoblock® X-Ray sources for medical, industrial, semiconductor, security, analytical, laboratory, and under-sea cable power-feed applications. With design, manufacturing and service facilities in the US, UK, Mexico, China and Japan, and direct sales offices throughout Europe, Asia and North America, Spellman is committed to supporting advanced system providers and their customers throughout the world.