Spellman Announces Release of New "MPS Series" Compact High Voltage Module
enero 05, 2005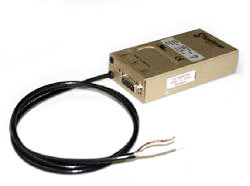 Spellman High Voltage Electronics Corporation (Hauppauge, NY) announces the introduction of it`s new MPS Series High Voltage Module. Designed for use in a variety of applications, ranging from Mass Spectrometry, Electron Beam, Electrostatic Printing, Photomultiplier Tubes or Nuclear Instrumentation, the MPS offers extremely high efficiency due to an innovative hybrid topology.
Combining Spellman`s proprietary circuitry for both linear and switchmode designs, the 10W MPS module attains high efficiency, and ripple ratings of 0.001%Vp-p. The MPS Series is available in 1kV, 3kV, 5kV and 10kV output at 10Watts maximum power output, and is available with VCC option for combination of Voltage and Current Mode Control. Extremely stable operation at .02% drift over 8 hours of operation with a temperature coefficient of <25ppm per degree C, the MPS is an exceedingly attractive power supply option for system specifiers working in application areas where precision is paramount.
At barely an inch in height and less than three inches in width (1.18" H x 2.75" W x 5.12" D (30 x 70 x 130mm)), the ultra compact MPS utilizes Spellman`s surface mount technology (SMT) for robust performance in the smallest package size. The MPS is powered and controlled through a convenient end-user 15-pin Sub-D interface which allows for voltage and current control and monitoring, is configurable in negative or positive output polarity, and can be customized for unique OEM requirements intended for large scale system applications.
Technical literature and additional information on the MPS series, as well as all other Spellman products, is available by contacting Spellman High Voltage at (631) 630-3000, or by visiting the product's technical specifications.
Spellman High Voltage Electronics is the world`s leading independent manufacturer of high voltage power supplies, DC-DC converters and power systems for medical and industrial applications, semiconductor manufacturing, scientific instrumentation, telecommunications, X-ray and automatic test equipment. We specialize in providing custom designs to suit unique requirements. Spellman is headquartered in the U.S. and has facilities in the U.K., Japan, China and Mexico that provide design, manufacturing and service to our customers throughout the world.