Spellman Powers MAREA Undersea Cable to New Record
3월 08, 2019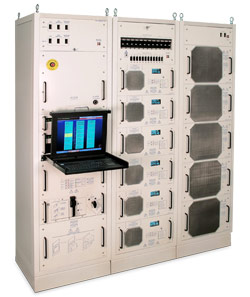 Hauppauge, NY, Spellman High Voltage Electronics Corp, the world's leading high voltage power supply, X-Ray generator and Monoblock® X-Ray source manufacturer, is pleased to announce that our land-based, PFE Series high voltage power supplies, provided power to the MAREA transatlantic fiber optic cable that recently broke a data transfer speed record. The MAREA cable, owned by Microsoft, Facebook and Telxius, stretches over 4100 miles (6,605 km), from Bilbao, Spain to Virginia Beach, VA.
Researchers at Infinera reported that, during a 16QAM modulation experiment, they reached peak data rates of 26.2 terabytes per second. The theoretical speed was expected to be 20 terabytes per second. At these data rates, and with 8 pairs of optical fibers, close to 5 million HD movies could be streamed at the same time. The MAREA cable normally transmits at 9.5 terabytes per second, still a very high data rate.
Spellman is extremely proud to be part of this technological feat.
To learn more, click on the links below:
A 10-million-pound undersea cable just set an internet speed record
Researchers Break Transfer Record With Marea Subsea Cable
Undersea Cable MAREA, Owned By Facebook and Microsoft Set Record-breaking Speed Transfer
Additionally, check out this video of the timeline of subsea cables.
Detailed Information Available
Detailed technical information and datasheets on these or any of Spellman's wide range of high voltage products is available by contacting sales@spellmanhv.com or by visiting Spellman's website: www.spellmanhv.com.
Spellman High Voltage Electronics is the world's leading provider of custom designed and standard AC-DC and DC-DC high voltage power converters and Monoblock® X-Ray sources for medical, industrial, semiconductor, security, analytical, laboratory, and under-sea cable power-feed applications. With design, manufacturing and service facilities in the US, UK, Mexico, China and Japan, and direct sales offices throughout Europe, Asia and North America, Spellman is committed to supporting advanced system providers and their customers throughout the world.