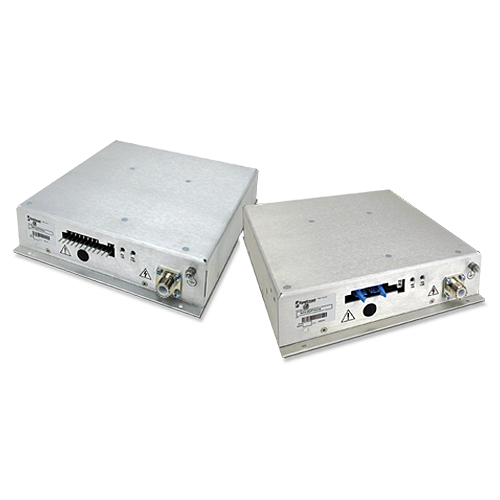 SERIE MXR
Polaridad reversible conmutable en caliente, se establece en <3ppm dentro de 2s
Salidas del monitor de voltaje y de corriente
Protección de arco y corto circuito
Muy buena Regulación, baja ondulación, alta estabilidad
Reconocido por UL, marcado CE y compatible con RoHS
Personalización OEM Disponible




FUENTE DE ALIMENTACIÓN DE INVERSIÓN DE POLARIDAD CONMUTABLE SIN DESCONEXIÓN
La serie MXR de Spellman son convertidores DC-DC de alto rendimiento bien regulados. La especificación de baja ondulación del MXR lo hace ideal para espectrometría de masas y microscopios de electrones. El MXR20 tiene una especificación de 20kV @ 300uA y el MXR30 tiene una especificación de 30kV @ 300uA. Ambos son empaquetados en una carcasa metálica blindada y están disponibles en opciones de control analógico o digital RS232. Estas unidades cuentan con una entrada de señal lógica para controlar la inversión de la polaridad de salida. Se proporcionan monitores de voltaje, polaridad y corriente. La versión digital también proporciona una entrada opto aislada de interlock (Habilitar HV/Deshabilitar). Fácilmente personalizada para cumplir con los requisitos del OEM, la serie MXR se puede proporcionar con control de corriente, rendimiento de ondulación mejorado y capacidades de voltaje y corriente más altas.

(Ref. 128116-001 REV. J)
OPTIONS
MXR can be ordered as an analog or a digital controlled unit. See How To Order information below.
Custom captive cable options available upon request.
SPECIFICATIONS
Input Voltage:
24Vdc (±5%)
Input Current:
≤1.25 A nominal continuous
≤4.5 A peak during reversing
Output Voltage:
0V to ±20kV (MXR20)
0V to ±30kV (MXR30)
Output Current:
<300μA
Voltage Regulation:
Load: <50ppm of maximum output voltage for a no load to full load change
Line: <20ppm of maximum output voltage for a 5% input line change
Programming and Monitor Accuracy:
±2% Voltage Programming/Monitor
Ripple:
20kV: 100mVp-p
30kV: 150mVp-p
Stability:
1hr = 10ppm max. after 1 hr warm-up
8hrs = 20ppm max. after 1 hr warm-up
Temperature Coefficient:
10ppm/°C
Reversing Time:
2s for +20kV to -20kV or +30kV to -30kV
settling to <3ppm, faster versions are available
Environmental:
Temperature Range:
Operating: 10˚C to 50˚C
Storage: -35˚C to 85˚C
Humidity:
0% to 85%, non-condensing
Cooling:
Convection cooled
Dimensions:
2.05˝ H X 8.47˝ W X 9.45˝ D (52mm X 215mm X 240mm)
Weight:
8.80 pounds (4.0kg)
Input Connectors:
Analog units: Power and Control: 12 way Samtec FWS 12-04-T-S-RA
Digital Units:
Power: 2 way Molex Mini-fit Jr 39-30-1022
Control: 10 way 'IDC Ribbon cable' connector 3M N3793-5302RB
Output Connectors:
Standard output is GES HB30 receptacle (GES p/n: 7331051). Mating plug is GES HS30 (p/n: 7331050, not included). Mating cable assembly can be ordered separately, see How To Order information below.
Regulatory Approvals:
UL recognized component (RC). File number E354595. Compliant to IEC/UL 61010-1 Safety requirements for electrical equipment for measurement, control and laboratory use; CAN/CSA-C22.2 No.61010-1. CE marked to EN 61010-1. UKCA marked to BS EN 61010-1. RoHS compliant. As the unit is designed for incorporation within the user's system it is not tested against any specific EMC standards. Compliance with any relevant EMC standards on a system level are the responsibility of the equipment designer.
ANALOG UNITS—POWER AND CONTROL 12 PIN SAMTEC FWS CONNECTOR
| PIN | SIGNAL |
| --- | --- |
| 1 | Current monitor output 0-10V = 0V to 500μA Zout=10kΩ, Accuracy ±5% |
| 2 | +24Vdc Input |
| 3 | Voltage monitor output 0-10V = 0V to Max V Zout=10kΩ, Accuracy ±2% |
| 4 | N/C |
| 5 | N/C |
| 6 | N/C |
| 7 | Voltage program input 0-10V = 0V to Max V Zin>1MΩ, Accuracy ±2% |
| 8 | Polarity set input, TTL levels: LO = +VE, HI/Open = -VE |
| 9 | Signal ground |
| 10 | Ground return for +24Vdc |
| 11 | N/C |
| 12 | Polarity status output LO (<200mV, source 1.5kΩ) = +VE, HI (+24V, source 2.2kΩ) = -VE |
DIGITAL UNITS—POWER 2 PIN MOLEX MINI-FIT JR
| PIN | SIGNAL |
| --- | --- |
| 1 | +24Vdc Input |
| 2 | Ground return for +24Vdc |
DIGITAL UNITS—CONTROL 10 PIN IDC RIBBON CONNECTOR
| PIN | SIGNAL |
| --- | --- |
| 1 | Transmit data (output) with respect to pin 2 |
| 2 | Serial signal ground return (if required) |
| 3 | Receive data (input) with respect to pin 2 |
| 4 | N/C |
| 5 | N/C |
| 6 | N/C |
| 7 | Interlock opto-isolator input (0mA = Voltage Inhibit) see* |
| 8 | Interlock opto-isolator signal return |
| 9 | Polarity set opto-isolator input (0mA = -VE) see* |
| 10 | Polarity set signal opto-isolator signal return |
How to Order:
Standard
Part No.: MXR20PN24
Part No.: MXR30PN24
Digital (option):
PART No.: MXR20PN24/DCC2
PART No.: MXR30PN24/DCC2
Mating cable,
length 2m:
Part No.: HVC30/1S/1279

DIMENSIONS: in.[mm]
SIDE VIEW

TOP VIEW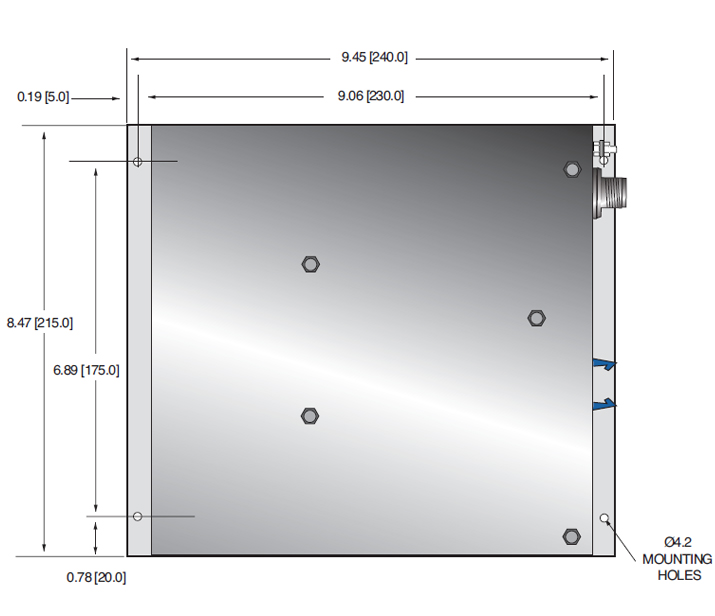 FRONT VIEW (Digital)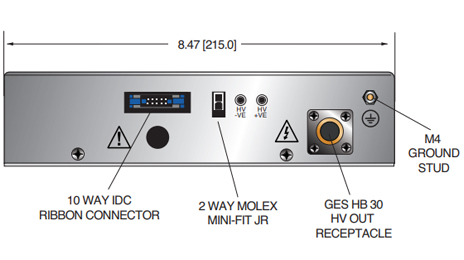 FRONT VIEW (Analog)