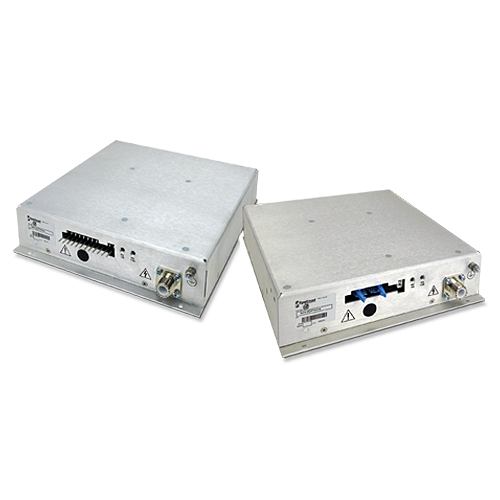 SERIE MXR
Inversión de polaridad conmutable sin desconexión
Salidas de monitoreo de voltaje y corriente
Buena regulación, bajo rizo y estabilidad alta
Reconocimiento UL
Personalización disponible para OEM

FUENTE DE ALIMENTACIÓN DE INVERSIÓN DE POLARIDAD CONMUTABLE SIN DESCONEXIÓN
La serie MXR de Spellman son convertidores bien regulados de alto desempeño de CD-CD. La especificación de bajo rizo de la serie MXR la hace ideal para la espectrometría de masas y microscopios electrónicos. La MXR20 tiene un valor nominal de 20 kV a 300 μA y la MXR30 tiene un valor nominal de 30 kV a 300 μA. Ambas están alojadas en una carcasa metálica blindada. Estas unidades cuentan con una entrada de señal lógica para controlar la inversión de polaridad de salida. Se proporcionan con la función de inhibición de alto voltaje además de monitores de voltaje y corriente. Fácilmente adaptable para cumplir con los requisitos de aplicaciones de OEM, la serie MXR puede suministrarse con control de corriente, desempeño de rizo mejorado y capacidades superiores de voltaje y corriente.

(Ref. 128116-001 REV. E)
OPTIONS
/DDC 2 RS-232
/LL#### mating HV cable length specified in mm
SPECIFICATIONS
Input Voltage:
24Vdc (±10%)
Input Current:
1.25A
Output Voltage:
± 20V to ±20kV (MXR20)
± 30V to ±30kV (MXR30)
Output Current:
300μA
Voltage Regulation:
Load: 50ppm of maximum output voltage for a no load to full load change
Line: <20ppm of maximum output voltage for a 5% input line change
Programming and Monitor Accuracy:
±2% Voltage Programming/Monitor
Ripple:
10ppm
Stability:
1hr = 10ppm max. after 1 hr warm-up
8hrs = 20ppm max. after 1 hr warm-up
Temperature Coefficient:
10ppm/°C
Reversing Time:
2s for +20kV to -20kV or +30kV to -30kV
settling to <3ppm, faster versions are available
Environmental:
Temperature Range:
Operating: 0˚C to 50˚C
Storage: -40˚C to 85˚C
Humidity:
10% to 90%, non-condensing
Cooling:
Convection cooled
Dimensions:
2.05˝ H X 8.47˝ W X 9.13˝ D (52mm X 215mm X 230mm)
Weight:
Approximately 8.80 pounds (4.0kg)
Input Connectors:
Power: 2 way Molex Mini-fit Jr connector
Digital: 10 way 'IDC Ribbon cable' connector
Analog: 12 way Molex KK5.08 series connector
Output Connectors:
Standard output is GES HB30 receptacle. Mating cable is specified by adding /LL#### after model number, where #### is cable length in millimeters.
Regulatory Approvals:
Compliant to EEC EMC Directive. Compliant to EEC Low Voltage Directive. RoHS Compliant.
MXR POWER VIA 2 WAY MOLEX
| PIN | SIGNAL |
| --- | --- |
| 1 | +24Vdc Input |
| 2 | Ground return for +24Vdc |
MXR DIGITAL INPUT—10 WAY IDC RIBBON CONNECTOR
| PIN | SIGNAL |
| --- | --- |
| 1 | Transmit data (output) with respect to pin 1 |
| 2 | Serial signal ground return (if required) |
| 3 | Receive data (input) with respect to pin 2 |
| 4 | N/C |
| 5 | N/C |
| 6 | N/C |
| 7 | Interlock opto-isolator input |
| 8 | Interlock opto-isolator signal return |
| 9 | Polarity change signal opto-isolator input |
| 10 | Polarity change signal opto-isolator signal return |
MXR ANALOG INPUT—12 WAY MOLEX KK5.08 CONNECTOR
| PIN | SIGNAL |
| --- | --- |
| 1 | Current monitor output |
| 2 | +24Vdc Input |
| 3 | Voltage monitor output |
| 4 | N/C |
| 5 | N/C |
| 6 | N/C |
| 7 | Voltage program input |
| 8 | Polarity set input |
| 9 | Signal ground |
| 10 | +24Vdc return |
| 11 | N/C |
| 12 | Polarity status output |
How to Order:
Standard
Part No.: MXR20PN24
Part No.: MXR30PN24
DIMENSIONS: in.[mm]
SIDE VIEW

TOP VIEW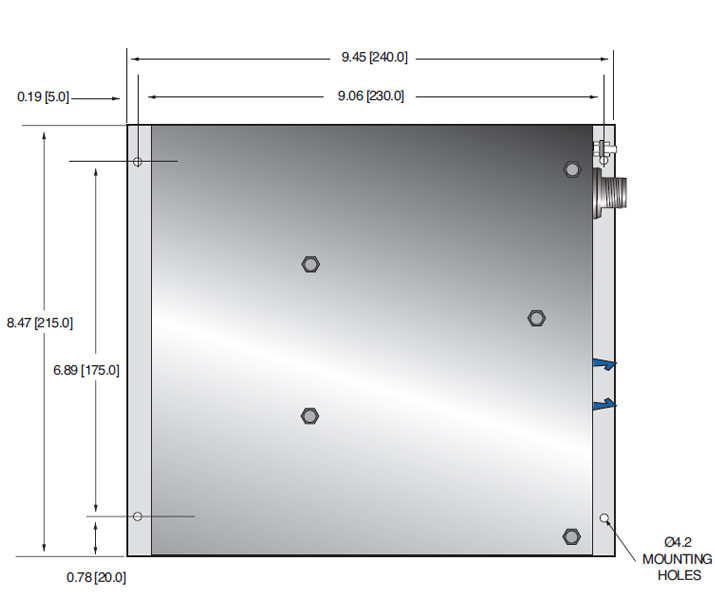 FRONT VIEW