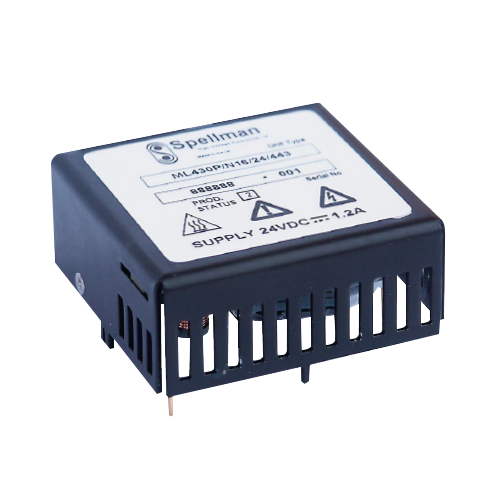 SERIE ML430
Fuente de alimentación para lentes de alto voltaje
Salidas dobles positiva y negativa
Diseño de bajo costo, compacto y aislado por aire
Aprobación UL para UL61010-1
FUENTE DE ALIMENTACIÓN DE ALTO VOLTAJE PARA ESPECTROMETRÍA DE MASAS
El módulo de alimentación de energía ML430 de Spellman ha sido diseñado específicamente para energizar amplificadores de alto voltaje. Este módulo de alto desempeño compacto, de bajo costo y basado en tecnología de montaje superficial se puede montar en una placa de circuito impreso. Su salida doble es ideal para los requisitos del controlador del amplificador y de las lentes electrostáticas, deflectores y fuentes polarizadas.
Esta unidad de salida doble de voltaje regulado, corriente fija y limitada proporciona hasta 25 mA de corriente de carga. La ML430 está protegida por completo contra condiciones de arcos y cortocircuito. La carcasa metálica aterrizada proporciona funciones de blindaje y de disipación de calor. Se suministra con una función de activación que permite la operación remota de la fuente de manera sencilla. La ML430 tiene aprobación CE y UL.
Aplicaciones típicas:
Amplificadores de alto voltaje
Lentes electrostáticas

(Ref. 128036-001 REV. K)
Input Voltage:
+24 Vdc, ±1.2Vdc
Input Current:
≤ 1.2 amp
Output Voltage:
Output 1-Positive:
+430 volts fixed. Accuracy ±7%
Output 2-Negative:
-430 volts fixed. Accuracy ±7%
Accuracy specified over full temperature, input voltage and load ranges
Output Current:
12mA maximum – Output 1-Positive
25mA maximum – Output 2-Negative
Line Regulation: (typical)
±0.1% – Positive output
±1.0% – Negative output
Load/Cross Regulation: (typical)
±0.1% – Positive output
±3.5% – Negative output
Output Current Limit:
An auto-recovering short circuit fold back limit is employed.
Fully arc protected, capable of 10 arcs in 5 seconds.
Ripple:
≤ 0.5% p-p of full rated output voltage
Stability:
≤ 0.25% per hour, constant operating conditions after 1 hour warm up
Temperature Coefficient:
≤ 200ppm per degree C
Environmental:
Temperature Range:
Operating: 0°C to 50°C
Storage: -35°C to 85°C
Humidity:
10% to 90% RH, non-condensing
Cooling:
Unit must be mounted in free air, in any position with the exception of inverted (pins up). Forced air cooling is recommended
Dimensions:
0.984. H X 2.362. W X 2.362. D (25mm x 60mm x 60mm)
Weight:
3.31 oz. (94g)
Regulatory Approvals:
Compliant to EEC EMC Directive. Compliant to EEC Low Voltage Directive.
DIMENSIONS: in.[mm]
TOP VIEW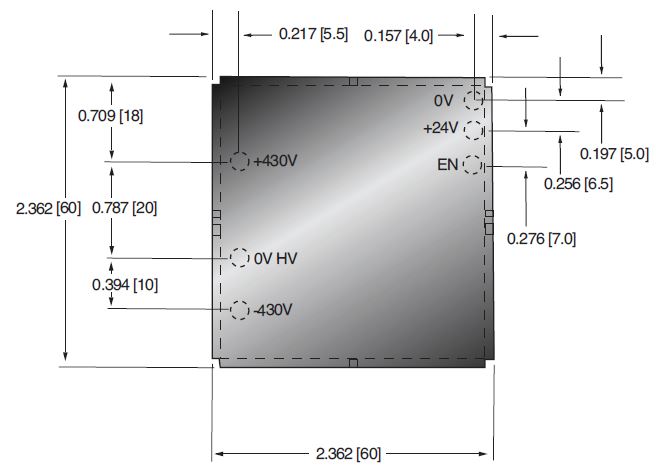 FRONT VIEW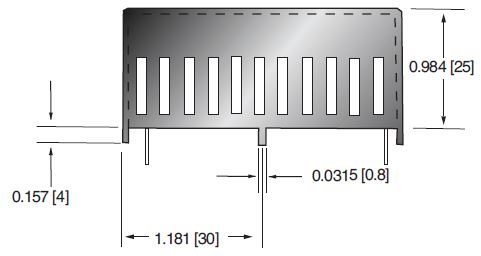 SIDE VIEW