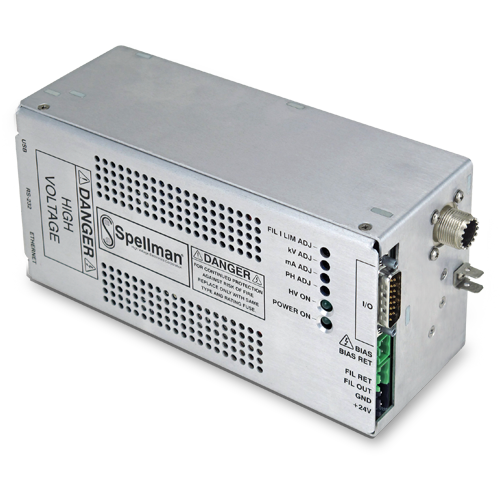 50-75W 工业级 X 射线发生器
uX 系列是 Spellman 卓越的高压封装和表面贴装制造技术的结晶,再加上专有的封装技术,才生产出这款超紧凑的 X 射线发生器模块。uX 为众多知名制造商的接地阴极 X 射线管供电,在电流为 2mA,功率限制为 50、65 或 75W 时,提供 0 至 50kV/65kV 高压输出。uX 采用提供高度调节的电子束电流的闭环灯丝控制电路。低噪声直流灯丝电源的工作电流范围为 0.3 至 3.5A。uX 的调节严密,高度稳定,纹波低,为用户提供本地和远程模拟控制来设置电子束电压、发射电流和灯丝电流限值。标配 USB、RS-232 和以太网接口。 
典型应用:
从 Kevex、Oxford、RTW、Superior、Varex 和 Trufocus 为接地阴极 X 射线管供电。
选件
XCC XRM 兼容 HV 电缆(仅 50kV)
5VPM 0 - 5V 编程和监视扩展
GB 栅极偏压
GF 接地灯丝
5302 Mammoflex HV 电缆,用于 uX
2001 Mammoflex HV 电缆,用于 uX,带 XCC 选件
(Ref. 128108-001 REV. J)
Input:
+24Vdc ±10%, 5.0A maximum for either 50 Watts or 75 Watts.
+24Vdc ±1V, 5.0A maximum for 65kV/65W units.
Efficiency:
75%, typical
Output:
0 to 50kV at 0 to 2mA, limited to a maximum of 50 watts
or 75 Watts. 0-65kV at 2mA limited to 65 Watts.
Voltage Control:
Local: Internal multi-turn potentiometer to set voltage from 0 to full output voltage.
Remote: 0 to +10Vdc proportional from 0 to full output voltage. Accuracy: ±1%. ZIN: 10Mohm.
Emission Control:
Local: Internal potentiometer to set beam current between 0 and full output current.
Remote: 0 to +10Vdc proportional from 0 to full output current. Accuracy: ±1%. ZIN: 10Mohm. Filament limit and filament preheat control capability is also provided.
DC Filament Supply:
Isolated filament power supply generates emission current feedback signal for accurate low X-Ray tube current performance.
Current: 3.5A, adjustable limit
Voltage: 5.0 volt limit
Environmental:
Operational: 0°C to +50°C
Storage: -40°C to +85°C
Humidity: 0% to 90%, non-condensing
Temperature Coefficient:
0.01% per °C, voltage and current.
Stability:
0.05% per 8 hours after 1/2 hour warm-up.
Voltage and Current Monitors:
0 to +10Vdc proportional from 0 to rated output. Accuracy ±1%.
Redundant Voltage Monitor:
A redundant high voltage feedback divider with proportional 0 to +10Vdc = 0 to 100% output voltage signal can be provided on a custom basis.
Dimensions:
50kV Unit: 4.00"H x 2.87"W x 8.00"D (101.6mm x 72.95mm x 202.20mm).
65kV Unit: 4.00"H x 2.87"W x 9.00"D (101.6mm x 72.95mm x 228.60mm).
XCC Option: 4.00"H x 2.87"W x 9.00"D (101.6mm x 72.95mm x 228.60mm).
Weight:
4.5 lbs. (2.1kg) typical
Regulatory Approvals:
Compliant to EEC EMC Directive. Compliant to EEC Low Voltage Directive. RoHS Compliant. UL/CUL recognized, File E227588

Digital Interface
The uX features a standard USB, RS-232 and Ethernet digital interface. Utilizing these standard digital interfaces can dramatically simplify power supply interfacing requirements saving the user both time and money, while enhancing functionality and overall capabiity. Spellman provides a GUI with the uX that allows the customer to both customize operational features of the uX while also providing basic power supply operational features. Details of the uX's digital interface capability are described in detail in the uX manual.
Closeup showing digital interface connectors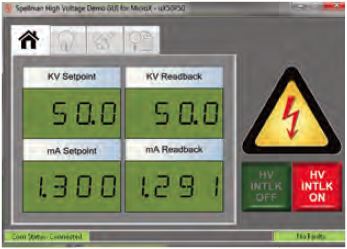 Main Control Screen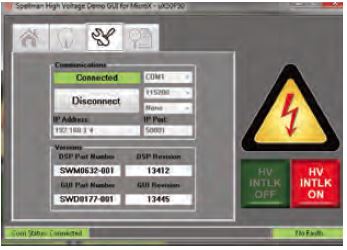 Communication Screen
Filament Status Screen
Grid Bias Option (GB):
Spellman's Grid Bias Option for the uX Series is specifically designed for popular commercially available grid bias X-Ray tubes. The Grid Bias voltage is developed via the use of a separate integrated high frequency switching circuit, providing maximum flexibility and control. The Grid Bias output is a voltage regulated, current compliant topology ideally suited for Wehnelt electrode applications. Arc and short circuit protection of the Grid Bias output prevents any damage due to transient events or installation errors.
Tracking Mode Operation
Functioning in tracking mode the voltage monitor (0-10Vdc = 0 to 50kV) of the main high voltage output is internally connected to the Grid Bias programming input (0-10Vdc = 0 to -300Vdc of Grid Bias). Connected in this manner the Grid Bias output will track in a linearly proportional fashion the setting of the main kV output.
A multiturn potentiometer limits the maximum magnitude of Grid Bias output applied to the X-Ray tube, providing unparalleled flexibility.
The output of the Grid Bias option is provided via an auxiliary two position Phoenix Contact terminal block, the mating connecter is provided.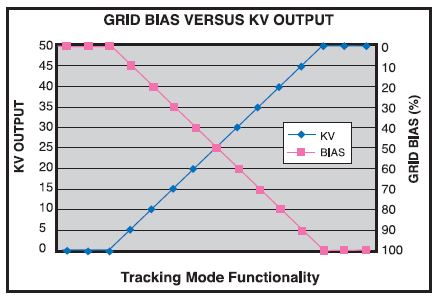 Grid Bias Specifications
Output Voltage: 0 to -300Vdc
Output Current: 0.25mA, maximum
Load Regulation: 1% of output voltage, no load to full load
Line Regulation: 1% for a ±10% change in input voltage
Ripple: 1% of maximum rated voltage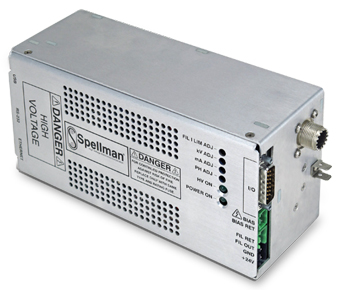 POWER INPUT/FILAMENT CONNECTOR 4 PIN PHOENIX CONTACT
| PIN | SIGNAL | PARAMETER |
| --- | --- | --- |
| 1 | +24V Input | +24 volts @ 5A, max. |
| 2 | 24V Return (Gnd.) | Power Ground |
| 3 | Filament Out | 0.3A to 3.5A, 5 volt, max. |
| 4 | Filament Return | Filament Return |
Note: On the standard uX unit, the filament return wire cannot be grounded as this would short circuit the tube return current monitoring to the uX. If grounding of the filament is required, please select the GF (Grounded Filament) option when ordering.
ANALOG INTERFACE CONNECTOR MALE 15 PIN MINI "D"
| PIN | SIGNAL | PARAMETER |
| --- | --- | --- |
| 1 | Monitor Return | Signal Ground |
| 2 | Voltage Monitor | 0-10 volts = 0 to full scale, Zout=1KΩ |
| 3 | Current Monitor | -10 volts = 0 to full scale, Zout=1KΩ |
| 4 | Interlock Output | Connect 12V HVON bulb to pin 15 to enable |
| 5 | +10 Volt Reference | +10 Volts at 1mA, maximum |
| 6 | Filament Monitor | volt = 1 amp, Zout=1KΩ |
| 7 | Voltage Program Input | 0-10 volts = 0 to full scale, Zin=10MΩ |
| 8 | Local Voltage Program* | 0-10 volts, screwdriver adjust |
| 9 | Filament Limit Setpoint* | 1 volt = 1 amp, screwdriver adjust |
| 10 | Current Program Input | 0-10 volts = 0 to full scale, Zin=10MΩ |
| 11 | Local Current Program* | 10 turn pot, screwdriver adjust |
| 12 | Not used (+24V Out for Interlock) | (Optional Interlock configuration) |
| 13 | Not used (Interlock Coil) | (Optional Interlock configuration) |
| 14 | Filament Preheat Setpoint* | 1 volt = 1 amp, screwdriver adjust |
| 15 | Interlock Return | Interlock Ground |
*Denotes 10 turn potentiometer accessable through holes in cover
GRID BIAS CONNECTOR 2 PIN PHOENIX CONTACT
| PIN | SIGNAL | PARAMETER |
| --- | --- | --- |
| 1 | Ground | Chassis Ground |
| 2 | Grid Bias | 0 to -300Vdc |
USB DIGITAL INTERFACE— 4 PIN USB "B" CONNECTOR
| PIN | SIGNAL | PARAMETERS |
| --- | --- | --- |
| 1 | VBUS | +5 Vdc |
| 2 | D- | Data - |
| 3 | D+ | Data + |
| 4 | GND | Ground |
ETHERNET DIGITAL INTERFACE— 8 PIN RJ45 CONNECTOR
| PIN | SIGNAL | SIGNAL PARAMETERS |
| --- | --- | --- |
| 1 | TX+ | Transmit Data + |
| 2 | TX- | Transmit Data - |
| 3 | RX+ | Receive Data + |
| 4 | NC | No Connection |
| 5 | NC | No Connection |
| 6 | RX- | Receive Data - |
| 7 | NC | No Connection |
| 8 | NC | No Connection |
RS-232 DIGITAL INTERFACE— 9 PIN FEMALE D CONNECTOR
PIN
SIGNAL
SIGNAL PARAMETERS
1
TX+
Transmit Data +
2
TX-
Transmit Data -
3
RX+
Receive Data +
4
NC
No Connection
5
NC
No Connection
6
RX-
Receive Data -
7
NC
No Connection
8
Voltage Monitor 2
0-10V = 0 to full scale, Zout = 1KΩ
9
Power Supply OK
+15V = OK,
0V = Fault, Sink/Source 3mA max
How to Order:
Sample model number:
50 Watt unit: uX50P50
65 Watt unit: uX65P65
75 Watt unit: uX50P75
Options are added to the model number as follows:
uX50P50/XCC or uX50P75/GB
DIMENSIONS: in.[mm]
50KV
BACK VIEW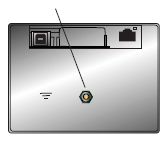 SIDE VIEW BOTTOM VIEW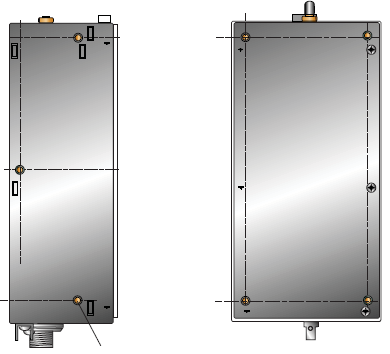 FRONT VIEW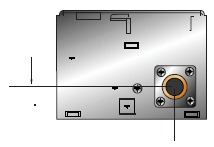 50KV WITH XCC OPTION
BACK VIEW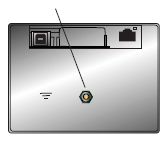 SIDE VIEW BOTTOM VIEW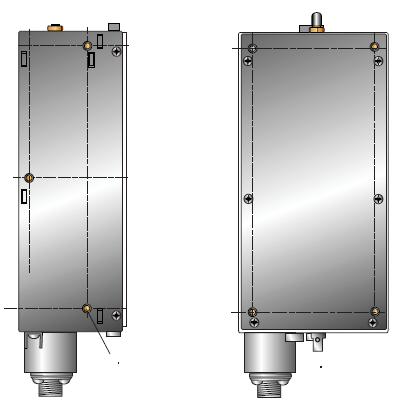 FRONT VIEW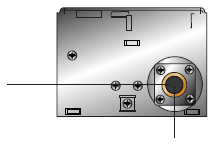 65KV
BACK VIEW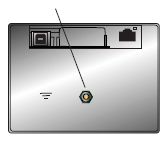 SIDE VIEW BOTTOM VIEW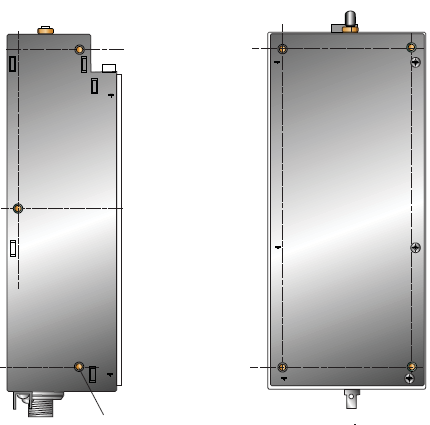 FRONT VIEW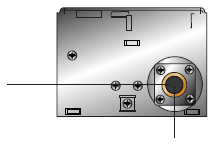 Frequently Asked Questions
Application Notes AN-12 – The Benefit of Using a Current Source to Power X-Ray Tube Filament Circuits
Application Notes AN-01 – Fundamentals of X-Ray Generator – X-Ray Tube Optimization