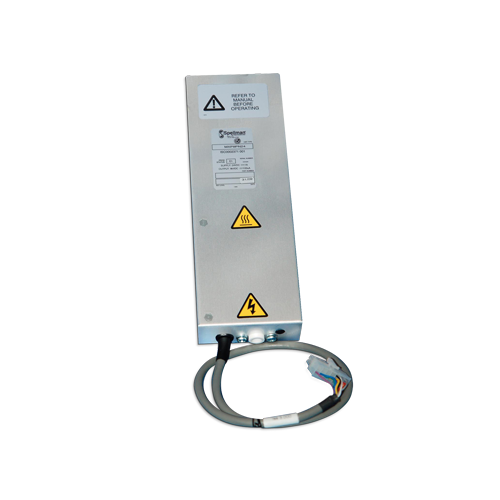 高性能高压电源
斯派曼通过RoHS 认证的MX8 Plus 是一款快速可逆精密调节高性能的电源。能够在25ms内,以"热切换" 方式逆转极性。
MX8 Plus 低纹波规格是拓扑技术的特点,使其成为质谱分析的理想之选;特别是安全检测系统、倍增器电极、样品离子化、毛细管电泳和静电印刷应用。MX8 专为EI 和APCI 应用而设计。
MX8 Plus 可以根据OEM 的需求定制,例如提高纹波性能、不同的电压或电流能力。
典型应用:

(Ref. 128067-001 REV. H)

Input Voltage:
+24Vdc, ±10%
Input Current:
<0.5A nominal continuous
<1.2A peak during reversing
Output Voltage:
0V to ±8kV (see note 1)
Output Current:
100µA
Output Polarity:
Bipolar
Voltage Regulation:
Line: <±0.1%% for ±10% input voltage change

Load: <0.1% for 0 to full load
Current Regulation:
Line: ±0.1% for +1V input voltage change for any load condition
Load: ±0.1% for full load to short circuit
Ripple:
<0.1% p-p @ 100μA
Temperature Coefficient:
≤ 100ppm per degree C
Environmental:
Temperature Range:
Operating: 5°C to 45°C
Storage: -35°C to 85°C
Humidity:
10% to 85%, non-condensing
Stability:
0.05% per hour after 1 hour warm up
Polarity Reversal Time:
<25ms from command to 90% into 100pF load capacitance(see note 2)
Protection:
Arc and short circuit protected
Output Voltage Limit:
Output voltage must not exceed ±8kV ±250V under any input or output conditions
Dimensions:
1.48. H X 3.23. W X 9.45. D (37.6mm X 82mm X 240mm)
Weight:
Approximately 3.3 pounds (1.5kg)
Input Connector:
14 way Molex housing p/n 39-01-2140 or similar with female terminals. Cable length 508mm
Output Connector:
Alden F303RX12, mating connector not provided
Regulatory Approvals:
Compliant to EEC EMC Directive. Compliant to EEC Low Voltage Directive. UL/CUL recognized file E227588. RoHS compliant.
Note 1: Linearity not guaranteed below 200V. Maximum offset ±20V when programmed to zero or disabled using remote enable.
Note 2: Unit incorporates circuitry to minimize the effects of low programmed current on reversing time. Polarity reversal time applies when current is programmed to 3µA or above.
MX8 PLUS14 PIN SOCKET
| Pin | Signal |
| --- | --- |
| 1 | +24Vdc Input |
| 2 | Chassis and 24Vdc Ground |
| 3 | Enable/Inhibit Input |
| 4 | 8kV Voltage Monitor output |
| 5 | Voltage Control Input |
| 6 | Current Monitor Output |
| 7 | Current Control Input |
| 8 | Polarity Control Input |
| 9 | Analog Ground |
| 10 | Current/Voltage Control Indicator |
| 11 | N/C |
| 12 | N/C |
| 13 | N/C |
| 14 | N/C |
How to Order:
Standard: PART NO.:MXP8PN24
DIMENSIONS: in.[mm]
SIDE VIEW

TOP VIEW

FRONT VIEW