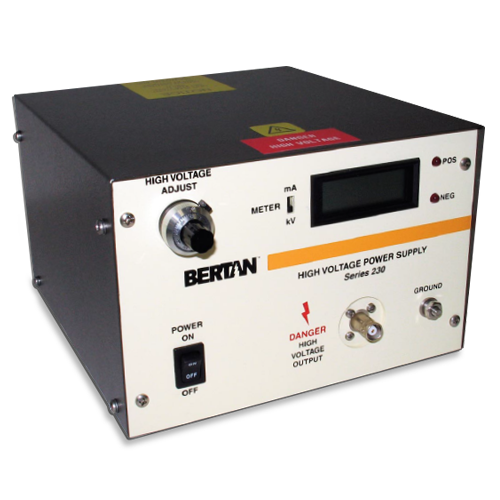 SERIE 230
Diseño modular para mesa de trabajo
Ruido y rizo bajos
Medición en el panel frontal de 3.5 dígitos
Polaridad de salida reversible
Benchtop High Voltage Power Supplies
Las fuentes de alimentación de alto voltaje de la serie 230 de la marca Bertan de Spellman proporcionan una salida de alto voltaje de 1 kV a 30 kV. La topología lineal y de bajo ruido empleada tiene como resultado especificaciones de rizo a la salida ultra bajas. Estas unidades de 12 W a 15 W tienen un diseño inherentemente reversible, proporcionando polaridad de salida positiva o negativa. La serie 230 está completamente protegida contra arcos y cortocircuito. Cuenta con especificaciones de regulación excelentes además de una sobresaliente estabilidad de funcionamiento.
Aplicaciones típicas
Prueba de potencial alto
Electrostática
Usos generales de laboratorio

(Ref. 128051-001 REV. K)
Input Voltage:
115Vac, ±10%, 50/60Hz @ 0.5A
230Vac, ±10%, 50/60Hz @ 0.25A
Input voltage is switch selectable
Output Voltage:
See "model selection" table
Output Polarity:
All units are reversible polarity by design
Output Current:
See "model selection" table
Voltage Regulation:
Line: ±0.002% of rated output voltage over specified input voltage range
Load:±0.005% of rated output voltage for a full load change
Current Regulation:
Internally set to limit at less than 125% of rated current.
A rear panel switch allows limiting at 25% of rated full current.
Ripple:
See "model selection" table
Temperature Coefficient: =100ppm/°C
Stability:
≤ 0.01%/hour, 0.02% per 8 hours after a 1/2 hour warm up
Accuracy:
Front panel control: ±(0.2% of setting + 0.2% of maximum)
Front panel Meter: Voltage ±(0.5% of setting + 0.5% of maximum), Current ±(2% of setting + 0.5% of maximum)
Remote Programming: ±(0.1% of setting + 0.1% of maximum)
Voltage Monitor: ±(0.1% of reading + 0.1% of maximum)
Current Monitor: ±(2% of reading + 1% of maximum)
Front Panel Metering and Controls:
Power ON/OFF switch
3.5 digit metering for voltage and current, switch selectable
Polarity indicator
10 turn locking potentiometer to set output voltage
HV output connector
Ground stud
Operating Temperature
0°C to +50°C
Storage Temperature:
-40°C to +85°C
Humidity:
20% to 85% RH, non-condensing
Input Line Connector:
IEC320 EMI filter/input connector, a detachable line cord is provided
Interface Connector:
9 pin "D" connector, a mating connector is provided
Output Connector:
A detachable 10 foot (3 meter) HV cable is provided for units up to 5kV;
10kV through 20kV: 59" (1.5 meter); 30kV: 10 foot (3 meter)
Cooling:
Convection cooled
Dimensions
7.63. W X 5.03. H X 8.91. D
(194mm X 128mm X 226mm)
Weight:
≤ 10lbs (4.5kg)
OPTIONS
F - Isolated (Floating) Output
MODEL SELECTION TABLE
| 230 | Voltage | Current | Ripple Series |
| --- | --- | --- | --- |
| 230-01R | 0 to 1kV | 0 to 15mA | 10mV |
| 230-03R | 0 to 3kV | 0 to 5mA | 30mV |
| 230-05R | 0 to 5kV | 0 to 3mA | 50mV |
| 230-10R | 0 to 10kV | 0 to 1.5mA | 500mV |
| 230-20R | 0 to 20kV | 0 to 0.5mA | 2V |
| 230-30R | 0 to 30kV | 0 to 0.4mA | 5V |
INTERFACE CONNECTOR
| Pin | Signal | Parameters |
| --- | --- | --- |
| 1 | Voltage Monitor | 0 to 5Vdc = 0 to 100% rated voltage, Zout = 10KΩ SIDE VIEW |
| 2 | N/C | No Connection |
| 3 | Enable | TTL "0" disables HV, TTL "1" or open enables HV |
| 4 | +5Vdc Reference | +5.0Vdc @ 10mA, maximum |
| 5 | Current Monitor | 0 to 5Vdc = 0 to 100% rated current, Zout = 10KΩ |
| 6 | Voltage Program Input | 0 to 5Vdc = 0 to 100% rated voltage, Zin = 1MΩ |
| 7 | Analog Ground | Ground |
| 8 | Digital Ground | Ground |
| 9 | Polarity Indicator | Open collector, 30V @ 25mA, positive = ON |
OPTIONS:
Isolated (Floating) Output-Option F
Units up to and including 5kV can be provided with differential outputs capable of floating up to ±2kV from ground. Voltage programming and monitoring functions are normally referenced to ground. Current monitor­ing and metering is eliminated. Replace "R" suffix with "F" for this option. Output connectors (positive, negative and ground) for 1kV and 3kV models are 3-way binding posts; 5kV model uses Spellman P/N JAC for positive and negative outputs with 3-way binding post for ground. Mating connectors are Spellman P/N PA (MHV type 1705-14)
DIMENSIONS: in.[mm]

FRONT VIEW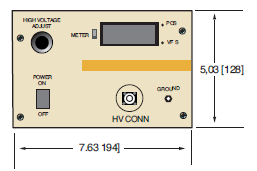 SIDE VIEW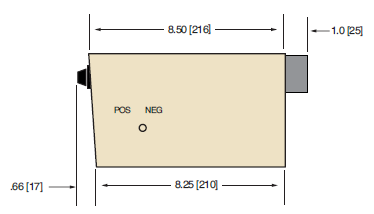 BACK VIEW