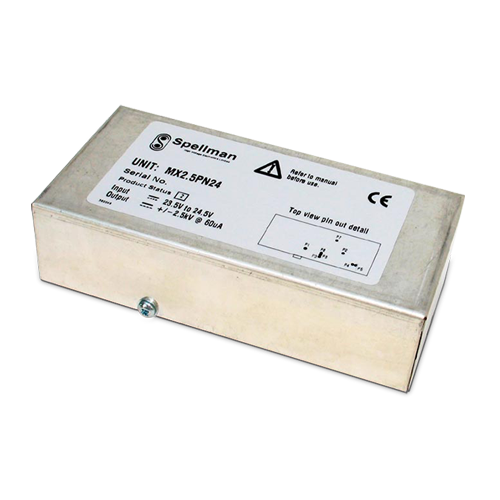 SERIE MX2.5PN
Polaridad reversible de conmutación sin desconexión de 2.5 kV mediante una señal lógica
Buena regulación, bajo rizo
Inversión de polaridad dentro del rango de 300 ms
Modulo de montaje de placas de circuito impreso compacto y rentable
FUENTE DE ALIMENTACIÓN DE ALTO VOLTAJE DE ALTO DESEMPEÑO
El MX2.5 de Spellman es un convertidor de CD-CD bien regulado de alto desempeño equipado con capacidad de inversión de polaridad "en caliente". La especificación de bajo rizo del MX lo hace ideal para las aplicaciones de espectrometría de masas; especialmente para los sistemas de detección de seguridad, dínodos, ionización de muestras así como electroforesis capilar y aplicaciones de impresión electrostática.
El MX2.5 tiene capacidad nominal de 2.5 kV a 60 μA y está alojado en una carcasa metálica blindada. Esta unidad cuenta con una entrada de señal lógica para controlar la inversión de polaridad de salida. Se proporcionan con la función de inhibición de alto voltaje además de monitores de voltaje y corriente. Fácilmente adaptable para cumplir con los requisitos de aplicaciones de OEM, la serie MX2.5 puede suministrarse con control de corriente, desempeño de rizo mejorado y capacidades superiores de voltaje y corriente.
Aplicaciones típicas:
Espectrometría de masas
Electroforesis capilar
Impresión electrostática

(Ref. 128049-001 REV. H)
Input Voltage:
+24Vdc, ±0.5 volt
Input Current:
<200ma>
Output Voltage:
±100Vdc to ±2.5kV
Output Current:
0 to 60uA max.
Polarity:
Remotely reversible via logic signal, 300mS to settle to ±1%, 1 Hz maximum switch rate
Voltage Regulation:
Load: 0.05% of maximum output voltage for a no load to full load change
Line: 0.05% of maximum output voltage for a 1 volt input line change
Voltage Programming:
0 to 10 volt corresponds to 0 to 100% of rated output voltage
Voltage/Current Monitor:
0 to 10 volt corresponds to 0 to 100% of rated output voltage/current
Programming and Monitor Accuracy:
±1% Voltage Programming/Monitor
±2% Current Monitor
Ripple:
≤ 0.02% Volts p-p
Stability:
0.02% per hour after 1 hour warmup
Temperature Coefficient:
≤ 50ppm per degree C
Environmental:
Temperature Range:
Operating: 0°C to 40°C
Storage: -40°C to 85°C
Humidity:
10% to 90%, non-condensing
Cooling:
Convection cooled
Dimensions:
1.18. H X 2.36. W X 4.72. D (30mm X 60mm X 120mm)
Weight:
Approximately 8.82 oz. (250g)
Interface/Power Connector:
PCB mount pins
HV Output Connector:
PCB mount pins
Regulatory Approvals:
Compliant to EEC EMC Directive. Compliant to EEC Low Voltage Directive.
MX2.5 INPUT/OUTPUT CONNECTIONS
| Pin | Signal | Signal Parameters |
| --- | --- | --- |
| 1 | +24V | Power Input |
| 2 | 0v | Signal and Power Ground |
| 3 | Vprog | 0-10V Programming Voltage |
| 4 | Polarity Change | Polarity Change Input |
| 5 | Shutdown | Output Inhibit, Disables HV Output Down to <60V Within 300ms |
| 6 | Vmon | 0-10V Output Voltage Monitor |
| 7 | Output | HT Output |
| 8 | Imon | 0-10V Output Current Monitor |
How to Order:
Standard: PART NO.: MX2.5PN24
DIMENSIONS: mm
SIDE VIEW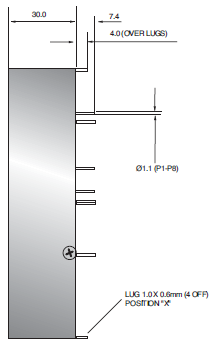 BOTTOM
VIEW ON PINS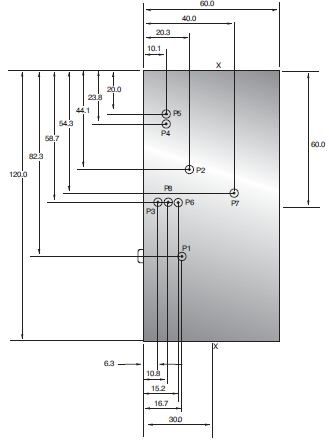 Note: All specifications are subject to change without notice. Please consult the
PDF version
of this datasheet for the most up-to-date revision.