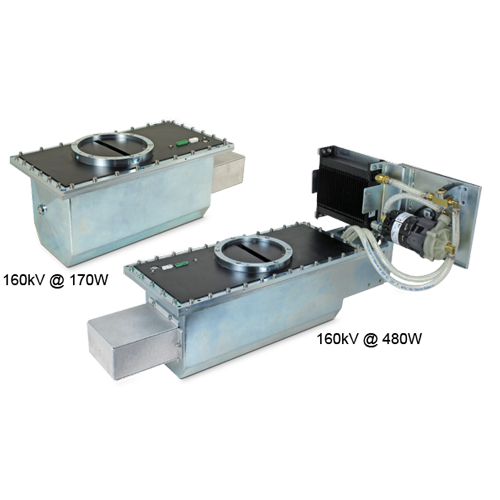 XRBC
Integrated HV Supply, Filament Supply, X-Ray
Tube, Beam Port and Control Electronics
Universal Input, Power Factor Corrected
Can be Mounted in any Physical Orientation
Ethernet and Standard RS-232 Digital Interface
*Note: All specifications are subject to change without notice. Please consult the English PDF version of this datasheet for the most up-to-date revision.

170-480W Monoblock® Industrial X-Ray Generators
Spellman's XRBC Series of Monoblock® X-Ray sources are designed for OEM applications powering its internal X-Ray tube up to 160kV at 170W, or 160kV at 480W with an oil cooler. Features like universal input, small package size with Ethernet and RS-232 digital interface simplify integrat­ing the XRBC into your X-Ray system. Standard models are available either with fan shaped or cone shaped beam geometries. Proprietary emission control circuitry provides excellent regulation of X-Ray tube current, along with out­standing stability performance.

Typical applications:
Scanning, Security Applications
(Ref. 128111-001 REV. C)

X-Ray Characteristics:
Tube Type: Glass tube, Tungsten target, Be filter
Focal Spot: 0.8mm x 0.8mm
Beam Filter: 1.7mm Glass, typical + 12mm oil + 3mm PEEK, 0.8 Be

Beam Geometry: Fan up to 80° x 10° nominal or cone beam up to 40°
Input Voltage:
480W Single phase - 90-264Vac, 50/60Hz, 8 amps, maximum. IEC320 input connector with EMI filter
170W Single phase - 90-264Vac, 50/60Hz, 3.15 amps,
X-Ray Tube Voltage:
Nominal X-Ray tube voltage is adjustable between 80kV to 160kV
X-Ray Tube Current:
0.5mA to 1.2mA over specified tube voltage range (up to 3mA available upon request with oil cooler)
X-Ray Tube Power:
170W, maximum continuous, or 480W with oil cooler
Voltage Regulation:
Line: ±0.1% for a ±10% input line change of nominal input line voltage
Load: ±0.1% for a 10% to full load change
Voltage Accuracy:
Voltage measured across the X-Ray tube is within ±2% of the programmed value
Voltage Risetime:
Ramp time shall be <350 msec from 10% to 90% of rated output
Voltage Overshoot:
Within 2% of rated voltage
Voltage Ripple:
0.1% pp of rated voltage from 10 Hz to 10kHz across X-Ray tube
Current Regulation:
Line: 0.1% over a range of line voltage from 90 to 264Vac
Load: <0.5% @ 80-160kV, 0.1mA to 3mA
Current Accuracy:
Current measured through the X-Ray tube is within ±2% of the programmed value
Current Risetime:
<350 msec from 10% to 90% of rated output
Arc Intervention:
200mS quench with a 4 arcs in 10 seconds shutdown
Filament Configuration:
High frequency AC filament drive; referenced to cathode potential of the X-Ray tube. Closed loop filamentary emission control circuit regulates filament current to provide desired X-Ray tube emission current.
Digital Interface:
Ethernet and RS-232
Operating Temperature:
0°C to +40°C
Storage Temperature:
-30°C to +70°C
Humidity:
5% to 95% relative humidity, non-condensing
Cooling:
170W unit: Customer provided convection/external forced air to keep oil temperature <>
480W unit: Heat exchanger w/fan and oil pump, powered from customer provided 115Vac
Grounding Point:
8-32 ground stud provided on chassis
Dimensions:
See line drawings 1, 2
Weight:
170W unit: <150 lbs (68.0 kg)
480W unit: <180 lbs (81.64 kg
Orientation:
Can be mounted in any orientation.
X-Ray Leakage:
Not to be greater than 0.5mR/hr at 5cm from surface of the Monoblock® when operating at maximum rated kV and maximum rated X-Ray tube power.
Regulatory Approvals:
Compliant to EEC EMC Directive. Compliant to EEC Low Voltage Directive. UL/CUL recognized file E235530.
RS-232 DIGITAL INTERFACE—9 PIN MALE D CONNECTOR
| Pin | Signal | Parameters |
| --- | --- | --- |
| 1 | N/C | No Connection |
| 2 | TX | Transmit Data |
| 3 | RX | Receive Data |
| 4 | N/C | No Connection |
| 5 | SGND | Signal Ground |
| 6 | N/C | No Connection |
| 7 | N/C | No Connection |
| 8 | N/C | No Connection |
| 9 | N/C | No Connection |
ETHERNET DIGITAL INTERFACE—RJ45 8 PIN FEMALE CONNECTOR
| Pin | Signal | Parameters |
| --- | --- | --- |
| 1 | TX + | Transmit Data + |
| 2 | TX - | Transmit Data - |
| 3 | RX + | Receive Data + |
| 4 | N/C | No Connection |
| 5 | N/C | No Connection |
| 6 | RX - | Receive Data - |
| 7 | N/C | No Connection |
| 8 | N/C | No Connection |
ANALOG INTERFACE—J4 15 PIN FEMALE D CONNECTOR
Pin
Signal
Parameters
1
N/C
No Connection
2
N/C
No Connection
3
Enable
+24Vdc (>20Vdc) = HV ON
4
Signal Ground
Ground
5
kV Monitor
0-4.5Vdc = 0 to 100% rated output, Zin = 10kΩ
6
N/C
No Connection
7
mA Monitor
0-4.5Vdc = 0 to 100% rated output, Zin = 10kΩ
8
Interlock
Dry contact to ground (10mA) = interlock closed
9
Signal Ground
Ground
10
N/C
No Connection
11
Signal Ground
Ground
12
HV ON Lamp Relay
Normally open, X-Ray ON = closed,
30Vdc @ 1A maximum
13
HV ON Lamp Relay
Common dry contact, 30Vdc @ 1A maximum
14
HV ON Lamp Relay
Normally closed, X-Ray ON = open,
30Vdc @ 1A maximum
15
Power Supply Fault
Open collector, 35Vdc @ 10mA maximum,
High = no fault, series Zin = 1kΩ
LED INDICATORS
Indicator
Color
 
POWER
GREEN
Power is ON
X-RAY ON
YELLOW
X-Rays are enabled
FAULT
RED
Fault
INTERLOCK
WHITE
Interlock closed
ARC FAULT
RED
Momentarily illuminated for 1 ARC, Continuous
for arc shutdown after multiple arcs
OVER VOLTAGE
RED
Over Voltage fault occurs
UNDER VOLTAGE
RED
Under Voltage fault occurs
OVER CURRENT
RED
Over Current fault occurs
UNDER CURRENT
RED
Under Current fault occurs
OVER TEMP
RED
Over Temperature fault occurs
DIMENSIONS: in.[mm]
XRBC 170W UNIT
FRONT VIEW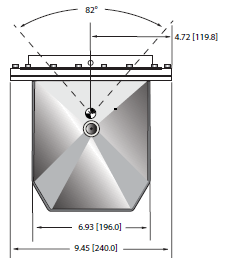 TOP VIEW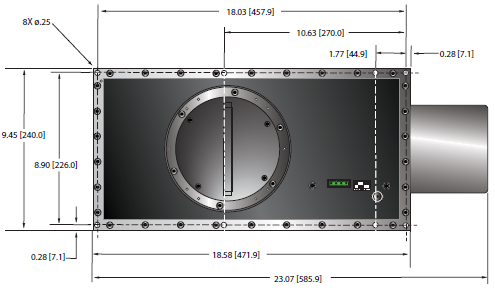 SIDE VIEW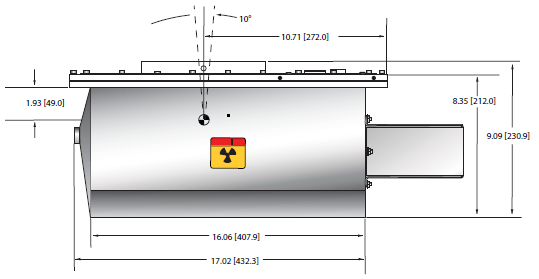 XRBC 480W UNIT
FRONT VIEW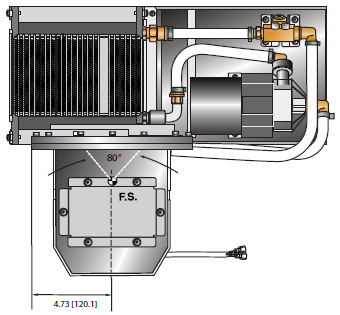 TOP VIEW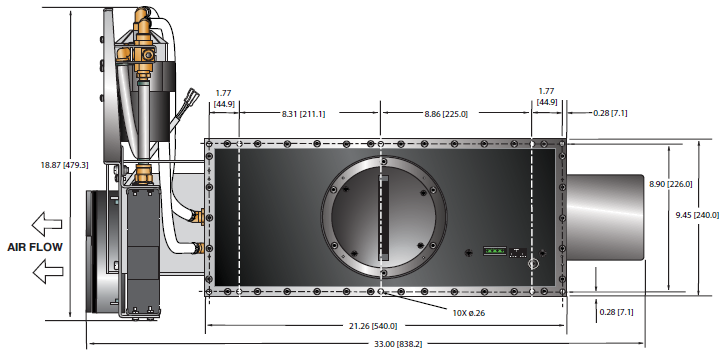 SIDE VIEW
CONTROLLER
FRONT VIEW

SIDE VIEW TOP VIEW